Eight years ago, the words "mobile optometry" didn't even make sense to Ivan Quiroz. Today, he is Vice President of Clinic Operations at 20/20 Onsite, overseeing a fleet of Mobile Vision Clinics staffed with highly-trained optometrists and exceptional customer service leaders. How did his career move so quickly?
Read our next employee spotlight interview with Vice President of Clinic Operations Ivan Quiroz to learn about Ivan's skyrocketing career at 20/20 Onsite.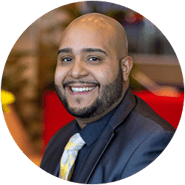 Tell us about your background in vision care.
I have a vast array of experience throughout my career. I've worked in various retail spaces including home improvement at Lowe's and soft goods at the Gap. I also was a Certified Nursing Assistant (CNA), and I've even owned a small trucking company. Through each of these experiences, I've often focused on helping people.
Eventually, I found my way to LensCrafters, where I worked for Luxottica. Optics really stuck with me because I felt I was making a difference by helping people see their world better — pun intended.
It's hard to work in optics without developing an emotional connection to the patients. Giving a patient their first pair of glasses was always an emotional experience. This drove me to start studying and become a licensed optician. During my time at LensCrafters, I progressed from managing a single location to becoming the regional trainer, managing multiple locations.
What inspired you to join 20/20 Onsite?
A colleague of mine at LensCrafters announced they were leaving for a role in mobile optometry. At the time, those two words made no sense to me. I hoped to convince him to stay, so I decided to meet with him.
When talking to him, a light bulb went off. I realized that mobile optometry had the potential to solve many of the everyday challenges we experienced. My perspective completely shifted in the midst of our conversation. I wished him luck because I knew this was a great idea.
At that point, 20/20 Onsite was focused on optometry and eye exams. I remember leaving the conversation and telling my colleagues that we would need to keep our eyes on 20/20 Onsite.
Fast forward a year or two later, and 20/20 Onsite reached out to me for support as the company grows. Within 24 months, three colleagues from LensCrafters came over to the company.
How has your career grown and advanced since joining the 20/20 Onsite team?
My career has advanced substantially since joining the 20/20 Onsite team. I first came on board as a regional manager. I was the first to hold this position in the company. At this point, 20/20 Onsite had grown to include four Mobile Vision Clinics. They brought me on for support in getting the fifth clinic rolling.
From there, my career has grown alongside the company. As we grow, I have advanced in my position. I've gone from Regional Manager to Director of Delivery to Director of Clinic Operations and ultimately to my current role as Vice President of Clinic Operation.
The best part of working in this company has been the return on my investment. You get out what you put into this team. In helping the company grow, I have had the pleasure of growing with it.
Describe your current roles and responsibilities as 20/20 Onsite Vice President of Clinic Operations.
I oversee all the Mobile Vision Clinics in the field — from the tire pressure and oil levels to the onboard experience and staffing. I also play a key role in overseeing our trajectory as we grow.
While I do oversee these factors, I don't necessarily change the oil on a Mobile Vision Clinic. I'm truly grateful to work with some extremely smart and talented people that have been working hard at these jobs for a long time. I get to support them in their achievements, but when it comes down to it, their success belongs to them.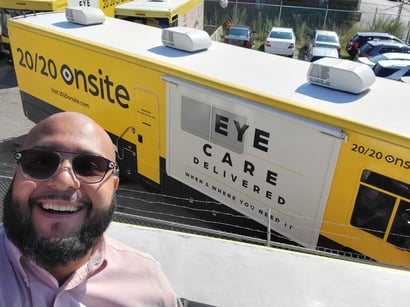 How would you describe your team at 20/20 Onsite?
We have a truly diverse team of go-getters. We have people that have graduated from Ivy League schools and others that have not gone to college at all. We have people that have worked anywhere from car audio to Amazon drivers to doctors. We all come from so many different backgrounds and languages. The differences here are crazy, yet I feel like we're all joined together in this.
You can see your impact. You see the difference you make, whether it's with a patient, the system, or the industry. You can see your fingerprint. For me, and everybody here, it's a hell of an opportunity to be able to do well, while you're still doing good.
I see it every day with our patients. They're gonna tell you, "A Mobile Vision Clinic, it's a no-brainer! I can't believe how convenient this is. I haven't got an eye exam in 5 to 10 years, but because you're here– I came on. This is so cool! It looks so great! The technology is state-of-the-art." They speak out our mission which further solidifies that you're in the right place, doing the right thing.
What aspects of the 20/20 Onsite mission do you identify with the most?
I don't think I have just one thing or one part of our mission that I drive towards. Our mission is very true to why we exist, what we do, and how we do it. I find it easy to align with every part of our mission. Plus, there's even a pun in it– we go the extra mile.
What is your vision for 20/20 Onsite over the next six months to two years?
First, we are going to be finding more barriers. Then, we're going to be breaking through those barriers. Right now is all about growth. In the next two years, we could double our fleet. This means doubling our impact and doubling what we do across the board. Even our routine optometry has broken into Connecticut, Rhode Island, and New Hampshire. Therefore, I will reiterate that growth is our goal for the next two years.
What's one thing about our Mobile Vision Clinics that may surprise people?
Patients are always surprised by what they see when they first step onboard. Experiencing mobile optometry for the first time is always surprising because it's unlike anything you've seen before.
They're surprised by the phrase "mobile optometry". It makes sense to me now, because I work here. Those two words still make no sense to the general population. I think the majority feel a sense of confusion because they don't fully understand what mobile optometry means until they come onboard our Mobile Vision Clinic.
When you think of mobile care, there's a slim chance that you've been onboard a dentistry truck, or any type of mobile healthcare. 9 times out of 10, you are going to picture a taco truck or a delivery truck. Then you start to wonder, "How in the world is there gonna be a doctor in there? How am I going to go inside and have an experience?"
The moment patients step onboard, they're blown away by what it looks like, the space inside, and the technology that's used. Patients find it easy to connect with our highly trained staff onboard. I would put our team up against anybody else's team in the industry. They are welcome to take a strong second place.
Do you wear glasses? If so, what is your favorite brand?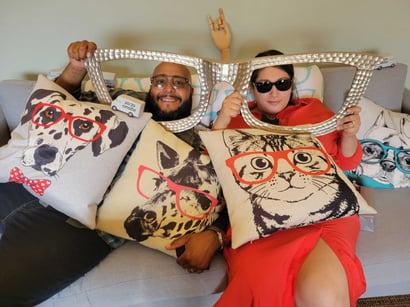 I do not have a prescription. However, I do wear glasses. I actually have a little problem. I own many pairs of glasses and sunglasses. I enjoy our Ray-Bans. They are always a popular choice among patients.
Instead of buying traditional sunglasses, I like to pick out a clear pair and make them sun. I might even pick out a pair of sun and make them clear. This way you always have a unique pair of glasses. There is no cost difference so it costs exactly the same. You pick out a sun frame and they'll pop out the lenses. I always get compliments when wearing them.
Are you ready to learn the meaning behind mobile optometry? Contact us today to bring on-site vision care to your company or book an appointment with us when we're rolling to a neighborhood near you.