Focusing on transformation
My background is in marketing and customer experience, and I saw a health care experience that was calling out for transformation, starting with centering on the patient. The opportunity to take on this challenge, remove friction points between patients and access, and expand care so people could prioritize their eye health was one I was enthusiastic about stepping into.
Pivoting during a pandemic
We were fully booked at the start of the pandemic and had plans to add new capacity across our markets. On March 13th, we suspended operations to keep our team and patients safe. When things started to open up, our team wanted to get back to work, and we felt a responsibility to our patients. As a people-first organization, we didn't hesitate to implement the protections and guidelines needed to keep our teams and patients safe. In addition, we evolved our delivery methods and expanded our services.
We recognized that most of our patients were working from home and had delayed care due to the pandemic. So we started the neighborhood program, popping up in places close to our consumer base, and offered telehealth and virtual eyewear styling.
Additionally, as it became clear traditional assessment centers would remain closed, we expanded our services to support clinical trials. It was an exciting time for the teams as we undertook training, conducted needs assessments, and repurposed some of our mobile clinics. We took our clinics on the road nationally, reaching patients who needed to have an eye assessment as a critical endpoint to the trials they were part of.
Diversifying clinical trial participants
We were also excited about the opportunity to apply our innovative patient-centric approach to expand the diversity of clinical trial participants and increase access beyond traditional academic centers. By bringing the testing to the patients, we removed barriers to enrollment and retention -and as a result, contributed to balancing representation. Minority representation in clinical research is a significant issue. For example, African Americans have 3x the risk of developing Diabetic Macular Edema (DME), which can cause vision problems or blindness but are underrepresented in clinical trials.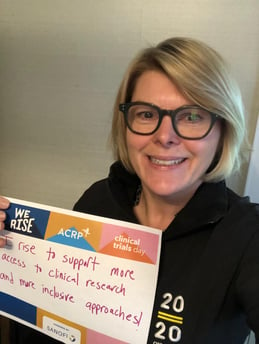 Seeing the future
At 2020 On-site, we haven't lost sight of our vision: to improve patient access and experience. The importance of eye health and annual assessment is undervalued and yet can dramatically impact a patient's ability to function, seek additional treatment, and comfortably engage with the world around them. We have - and continue to - improve people's lives, nationally with clinical trials, and ultimately expanding our mobile clinics across the country.
As a face-to-face business that not just survived the pandemic but innovated to thrive, we see obstacles differently. Across every level, we are a group of people with a true sense of ownership, growth mindset, and going the extra mile to deliver care. Joining us now is an opportunity to be part of our collaborative team that is deeply committed to what we do and incredibly energized by it.