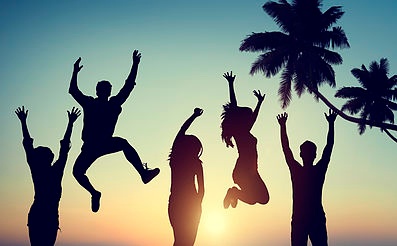 Having trouble finding an open machine at the gym? Is your weekly spin class suddenly the place to be? Must be January.

All jokes aside, this is a great time to take a fresh look at what your company is doing in terms of wellness and benefits. It's a time when people are especially cognizant of their health, and many are actively trying to better themselves. Whether it turns out to be a short-lived health kick or a true, positive lifestyle change - only time will tell. But either way, what better time to help your employees achieve their goals with a new wellness initiative? Follow their lead and start the year off strongly!

Maybe your organization has a holistic, established wellness program in place, or maybe it's something you're just starting to scratch the surface of. In any case, the argument for corporate wellness is a strong one. A study published by Health Affairs states that, "medical costs fall by about $3.27 for every dollar spent on wellness programs and that absenteeism costs fall by about $2.73 for every dollar spent." And it doesn't end with financial benefits. The majority of us spend most of our time at work - this is not news. While this may be great for the economy, it certainly has a downside. To quote a 2015 Virgin Pulse report, "As employees struggle to manage demands on their time and attention, they're feeling increasingly frazzled and putting their well-being last on their list of priorities." In sum, an unhealthy workforce is not good in anyway; it's bad for profitability, productivity, health care costs, absenteeism, employee morale, employee engagement….the list goes on.

So when an employer has the opportunity to encourage and facilitate healthy habits, why wouldn't they? You're probably thinking, "duh - money". True, some wellness initiatives are pricey. But imagine a meaningful, health-related perk that you could offer your employees at little to no cost to the company? We like to think it's a no-brainer, but we'll let you decide.

If you work in the world of HR, you've probably been hearing more and more about the on-site services trend. It is certainly buzz-worthy, with The Institute for HealthCare Consumerism reporting that the vast majority of companies with 1,000 or more employees were either already implementing or were considering some form of on-site program in 2013. Mobile flu clinics are a well-known example. But have you heard of on-site eye exams?

2020 On-site Optometry delivers high-quality eye exams to employees where they work, so that they can stay on top of an important aspect of their health without taking time out of their busy schedules to get to the optometrist. We drive our state-of-the-art Mobile Vision Center to your office for the day and help with all the logistics. Our independent optometrists are highly-qualified and friendly. Did we mention we also have over 300 stylish frames on board, as well as contact lenses for purchase? It's a one-stop shop when it comes to your eyes, and it just so happens to live right outside the place where you spend most of your time. The best part? There is typically no additional cost to bring us on-site. So if you're looking for an affordable benefit that your employees will love you for - we're it.

This New Year, put not only your own health at the forefront but the health of your staff as well. Contact us to learn how!
Sources:
Baicker, Katherine, David Cutler, and Zirui Song. "Health Affairs." Workplace Wellness Programs Can Generate Savings. Project HOPE, Jan. 2010. Web. 14 Jan. 2016. "Healthy, Engaged Employees Are Your Business Advantage." (n.d.): n. pag. Virgin Pulse, 2015. Web. Penna, Mike La. "Health Care in the Workplace: More than Just a Clinic." Communities: Health Access Alternatives. The Institute for HealthCare Consumerism, n.d. Web. 14 Jan. 2016.