While we had an amazing time representing 2020 On-site Optometry at the SHRM (Society for Human Resource Management) Atlanta conference, we had an even better time connecting and listening to inspirational speakers, business owners and HR connoisseurs who opened our minds to new perspectives. The two-day conference definitely provided 2020 On-site with the tools and resources to help our company thrive in a new marketplace; not to mention, having Georgia Aquarium's penguin stop by our booth wasn't so bad either.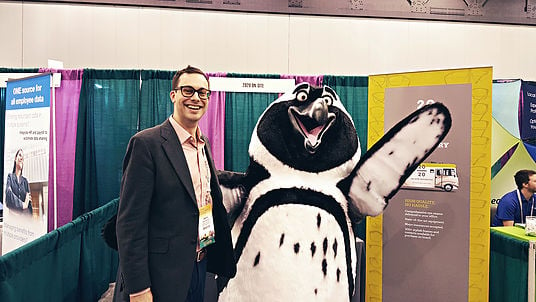 The event was a two-day immersion full of leadership building, innovation and entrepreneurial spirit – just the place for a startup like us to be! Aside from the extraordinary networking opportunities available there were incredible speakers that presented inspiring ideas.
For example, Dr. Paul White's talk on employee motivation and staff appreciation really made a difference in the way we think about staff management. What ultimately makes a company run, and we mean really work well, is its community of employees. One of the most important piece of advice that Dr. White taught us is that a happy workplace means happy employees, and with happy employees comes higher employee performance, and with high employee performance comes high company performance. It's a win-win-win situation.
This only emphasized the importance of what we do; if we can make employees' lives just a little bit easier bringing eye exams to their workplace, we think that can go a long way for both the individuals and the company we serve as a whole.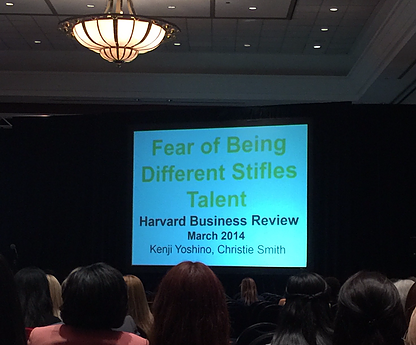 What else did we learn? We could go on and on, but we'll just leave you with a couple more tidbits. One speaker explained that, "Smart teams are teams in which individuals can be themselves." This is something that really hit home with us, because our all-embracing culture is something so dear to us at 2020, and we couldn't agree more with this statement. It was disheartening to hear that, "61% of employees feel like they need to hide something about themselves at work and 'fit in'", but it's certainly important to point out. So another key takeaway was to be authentic and encourage your team to do so as well.
By being around thousands of solution-providers in every industry, SHRM ATL solidified our goals and mission as an on-site eye-care provider. We aim to make the world a better place by increasing access to quality eye care, while simultaneously helping to keep our clients' employees happy and healthy!
As noted in one SHRMATL session, we are in charge of controlling our "own health care destiny,". But why not nudge your employees a bit, by making health care more approachable, and more top-of-mind? That's what we're all about.
And we don't even need live penguins to do it.