Great news: our eye care team is fully vaccinated! We're so proud to continue taking care of patients onboard our Mobile Vision Clinics while adding this extra layer of safety.
Our team received their vaccinations at the CVS Health Pharmacy in Revere and the process was fast, easy, and convenient. "The vaccine process was organized and efficient," Dr. Katherine Harkins, OD, said. "As I waited for my turn, I felt relieved to have been given the opportunity to get the vaccine and excited to be taking the first step toward freedom and normalcy."
Nabil Aslani, Elizabeth Alicakos, and Dr. Katherine Harkins after their final vaccinations.
Since June of last year, 2020 On-site has followed strict safety protocols onboard our mobile clinics, including state-of-the-art air filtration with HEPA filters, bi-weekly COVID-19 testing for our eye care team members, and enhanced social distancing and sanitizing processes on board. Now, it's a relief to know that we can better serve our patients with the additional protection provided by the vaccines. This is one more step toward a new normal.
"It's important to be vaccinated to ensure the safety of the community and to help us get back to some sense of normalcy sooner rather than later," Elizabeth Alicakos, Store Manager, said. "As a country, I believe we have endured a lot, and if this can help protect my neighbor, a friend, or a family member, then why not? I trust in the community of scientists, epidemiologists, and healthcare officials and am grateful for their hard work to get us to this point."
Dr. Harkins agrees. "I miss my family, I miss my friends, and I miss seeing the smiling faces behind my patients' masks. The last year has been a year of sacrifice, and this vaccination is what will allow us to all be together again."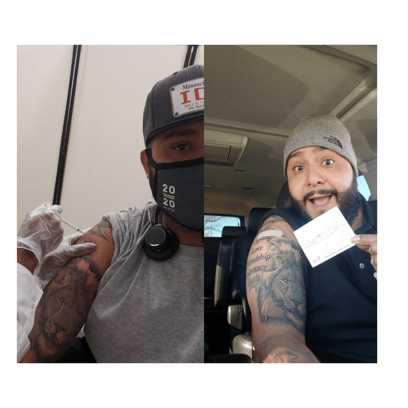 Ivan Quiroz, Senior Director of Service Delivery, receiving his vaccine.
Being part of the healthcare industry during the COVID-19 pandemic has its enormous challenges, but we are so grateful to be given the opportunity to protect ourselves, our patients, and our community with the vaccine.
"There is unquantifiable fatigue that comes along with providing healthcare during a pandemic. You can't measure it or even say what, specifically, is causing it. It may be talking and breathing in a mask all day, the extra cleaning protocols to keep everyone safe, or missing being able to communicate with a smile," Dr. Harkins said. "When a patient tells me how relieved they felt when they heard we were going to be in their neighborhood, I am reminded that the extra effort is worth it. I am grateful for the opportunity to provide a convenient service to our patients when so many things right now are difficult."
Alex Stayer, Operations Manager, with his vaccine card.
"I feel lucky that I get an opportunity to work in a safe and controlled environment, and fortunate that because of my job, I have access to the vaccination," Elizabeth said. "I am aware that this is a privileged position to be in, and while we are working in a patient-facing environment, our company keeps us safe and has given us more flexibility than most companies to do what is best for us and our patients. I am grateful to have this opportunity and to be able to continue helping our community receive vision care throughout this difficult time."
"It's a privilege. To be a part of the learning, to be a part of the science, and to be part of the solution." - Ivan Quiroz, Sr. Director of Service Delivery
As this new chapter for our company — and the world — unfolds, we look forward to supporting your vision care needs more safely than ever before.
If you're a patient and due for your annual exam, book an appointment here.
If you're ready to schedule a 2020 On-site visit at your workplace, email clientsuccess@2020onsite.com.