We constantly strive to provide the most efficient and convenient service right to your (office) doorstep. Here are just a few of the ways that we've improved our user experience so your employees get back to their desks happier and healthier.
Innovation 1: Pop Up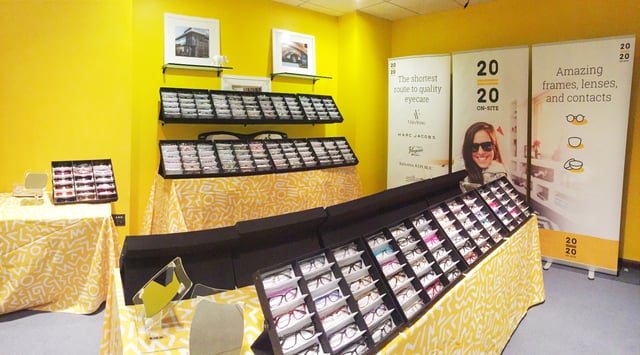 With the introduction of the on-site pop up shop, we bring our products right to your team!
We've all been there -- getting the prescription is only half the battle. If you've ever found yourself wearing the same old glasses for way too long after your last eye exam, you know what we're talking about. Now, our glasses shop "pops up" just a few days after certain office visits.
Plus: we've heard your feedback that patients often wish that they could have more time to browse a wider selection of frames. Our pop up features 300 glasses right in the office. We stop in, set up shop, and bring frames, lens and contacts options -- at all price points -- right to you.
Innovation 2: An Easier Way to Give Us Feedback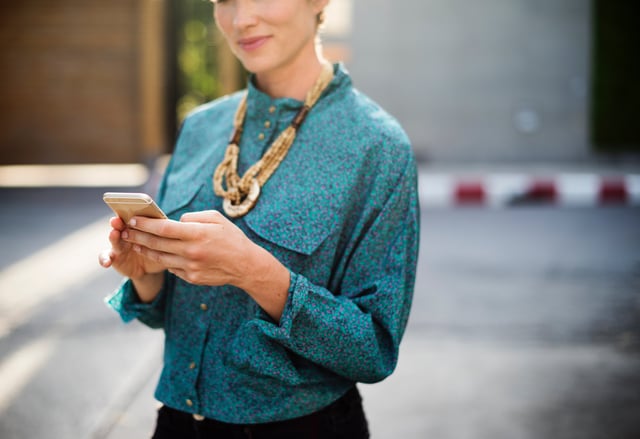 With more feedback, it becomes easier for us to continue to improve your experience. (Although by the looks of it, we're not doing too bad so far: 97% of our patients rate us a 7 out of 10 or higher!) That's why we've made it even easier to let us know how we did at your visit.
The Net Promoter Score (NPS) is a tool to measure the relationship between a provider (that's us) and a consumer (your team). The score is most often based on a 10-point scale responding to a single question: How likely is it that you would recommend our company/product/service to a friend or colleague?
Previously, we relied solely on an email survey to collect our NPS data. But let's be real -- we don't have time for an hour-long doctor's appointment; do we really have the time to squeeze in a survey? Just like our Mobile Vision Centers (MVCs), now our NPS survey can be done on-the-go, on your phones. Instead of logging into a computer, our consumers can send us feedback with a few texts.
Innovation 3: E-commerce Site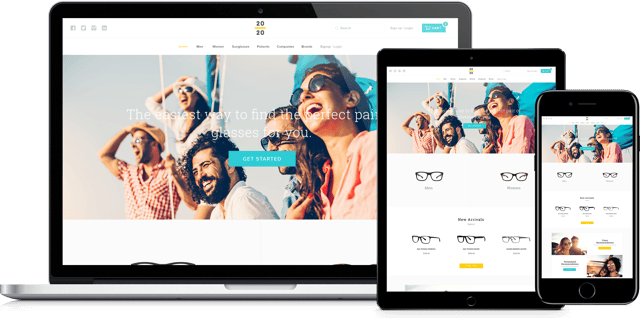 Having online purchasing options has been a much-needed innovation and a long time coming. We began the improvement in February when we included an Order section on our new website. Here, you could browse through a selection of popular frames and contacts, and fill out a form to order.
While a step in the right direction, we realized that there was still a need for a seamless process combining great options with easy ordering. Now with our brand new e-commerce site, shopping for glasses becomes just like any online shopping experience – oh no, how did I end up with twelve pairs of prescription sunnies in my shopping cart??
Plus, you don't even have to worry about keeping track of your new prescription (why are those things always so darn easy to lose?). We'll have your prescription delivered right to your email.
Innovation 4: Blue Light Blockers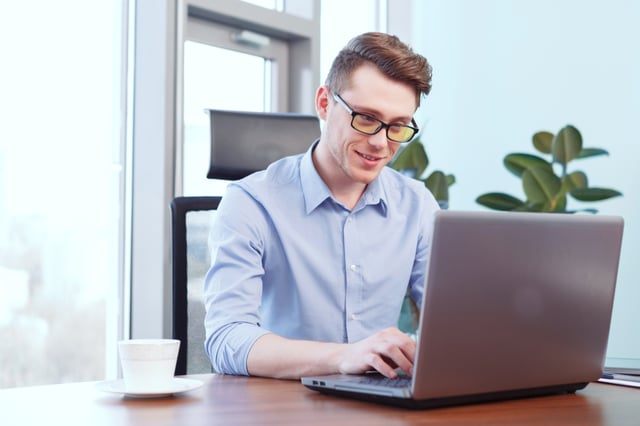 During the day, natural blue light from the sun helps to keep you awake and regulate your "body clock," or circadian rhythm. However, indoors, blue light is emitted from digital devices and artificial light sources. Thanks to our dependence on all kinds of screens, we're being exposed to more and more sources of blue light over longer periods of time.
Recent studies focused on blue light's negative impact on the circadian rhythm have found that watching TV or using a tablet before bedtime can result in restlessness and disrupted sleep cycles, which in turn can have devastating health effects. Too much blue light exposure can also cause eye strain, resulting in "tired eyes," headaches, and blurred vision.
Concerned yet? We have a solution! Blue light-blocking lenses are kind of like reverse sunglasses: instead of protecting from outdoor light, they protect your eyes from artificial light. If worn whenever you are looking at screens or around artificial light, they can heavily reduce the long and short term effects of an excess of blue light. And yes, we have blue-light blockers on our e-commerce site!
Innovation 5: iPad to Explain Your Benefits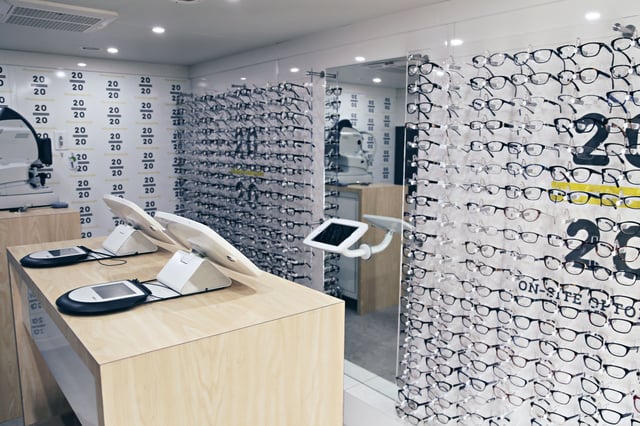 We're all about keeping vision and benefits clear. Co-pay matching, coinsurance, assignment of benefits, reimbursement ... what does any of this mean? With iPads on our MVCs, we're able to put the explanation of benefits right in front of each patient to ensure comprehension and clarity.
And of course once the benefits are clear, we'll set our patients up with the most stylish specs around. On our Atlanta MVC, the iPad setup also includes our version of a "glasses runway" where you can snap photos of yourself modeling frames to make sure you don't waste time trying on the same pair over and over. Sending the pics to yourself, so you can recall exactly which styles you liked the best.
Innovation 6: Patient Experience Redesign
We've wrapped up a redesign of our communication system, which now comes with a fresh look and some additional functionality. This includes the pre- and post-visit emails, a patient-facing booking system (we lovingly named her Eyeris), and a new queueing system for patient communication messages. This lets us queue messages ahead of time, and give finer control over what emails and texts patients receive.
The system has countless updates, including some of our favorites: Patients can now confirm appointments by text or email, opening up spots for others when early bookers can't make it. Improved waitlist lets you choose the time you want for your waitlisted appointment! Automatically created landing pages with custom company insurance information simplifies benefits for your team.
Here's an example of our easy-to-read emails: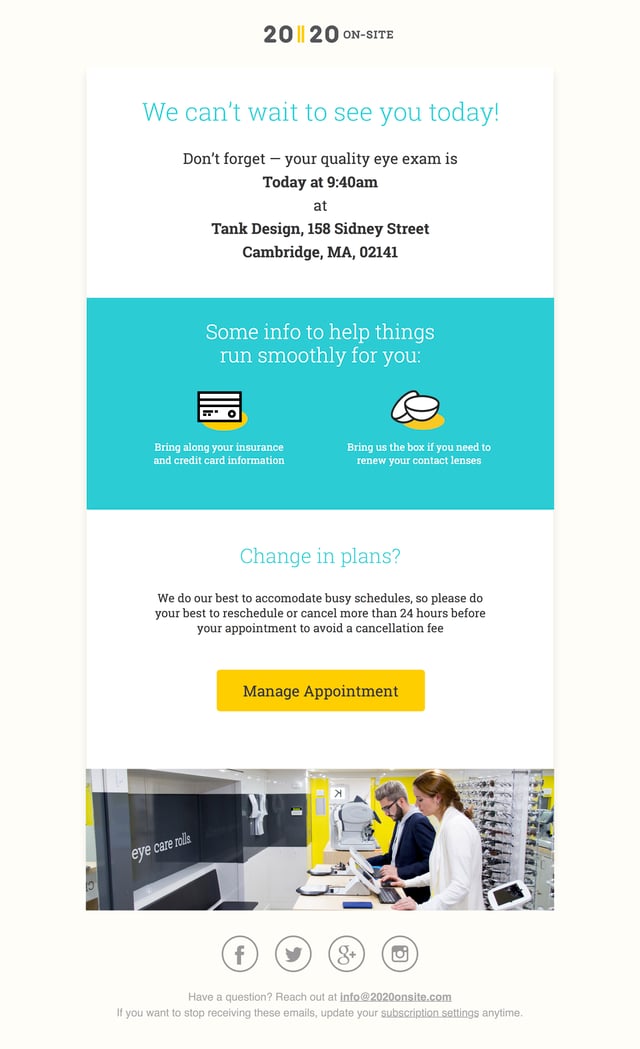 And here's a sneak peek at our new booking design: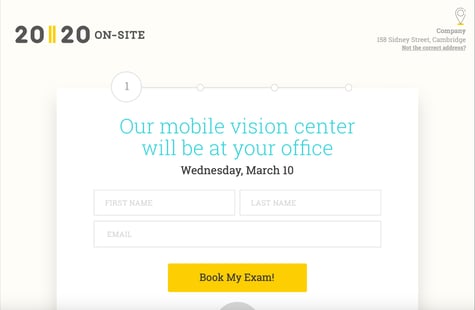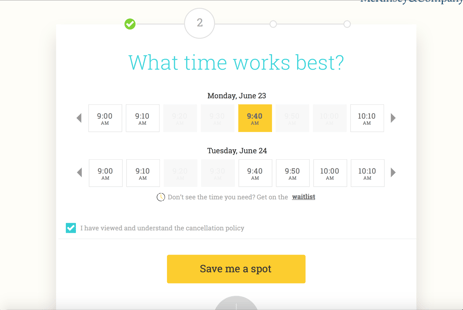 And, last but not least…
Innovation 7: Event Booth Revamp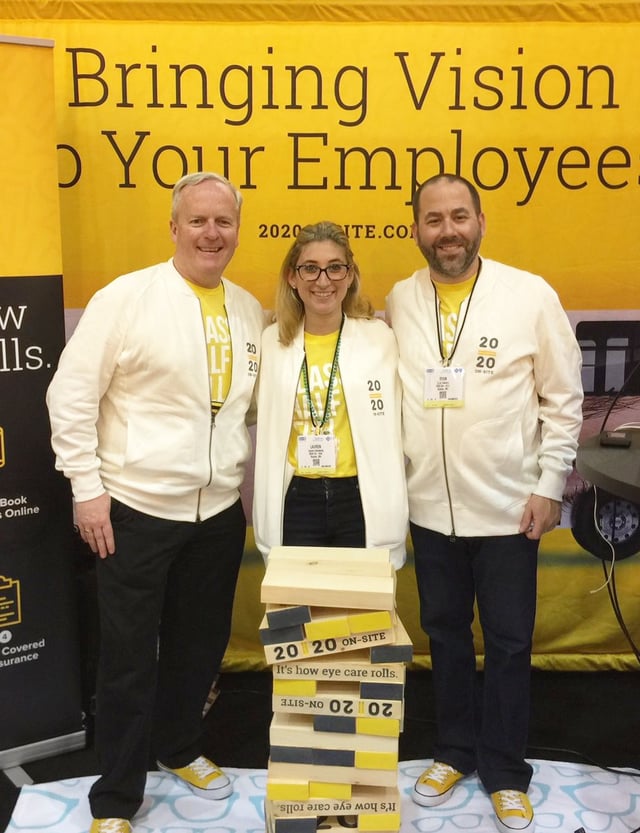 Events are opportunities for us to get to meet the lovely people in the HR community. And as we all know, first impressions are everything. We have new booth décor that will have you falling in love at first sight – get it?!
If you're attending a conference, you can't miss us decked out in our new bright yellow Converse, pun-ny tees, and 2020 jackets. At the office, we work hard and play hard (I'm not sure which is more stressful, checking everything off my list for the day or staying on the lookout for Nerf gun attacks). We carry that philosophy around with us everywhere, so stop by our booth to see if you can take on the Giant Jenga masters. See you there!
Interested in learning how 2020 On-site makes employee wellness easy? a 10-minute call.
Looking for more helpful content regarding HR, Benefits and Wellness? to our blog!