We live in an age where healthy living has become trendy. Have you noticed? Yoga, kale, biking to work, Fitbits, standing desks...the list goes on, and it's full of things that weren't prevalent just 5-10 years ago. It's certainly not a bad thing that keeping an eye on our health is in style, and there's no implication that it's all merely a fad.
In this health-conscious era, some of the most valuable tools popping up are those that allow us have a better understanding and easier access to important, telling information about our bodies - BMI, blood pressure, heart rate - without needing to visit the doctor. Higi, a health kiosk company, is one that, like us, is changing the game in the delivery of health services. As we like to keep a pulse (pun intended) on healthcare innovations, Higi peaked our interest, so we did some research, and I even tried it out myself!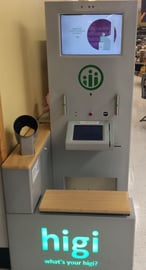 With thousands of stations across the US, you may have seen one
of the Higi kiosks in your local pharmacy or grocery store. Founded in Chicago
in 2012, Higi is a cloud-based health and wellness platform that allows consumers (i.e. regular people like you and me) to keep an eye on their health in an accessible, engaging manner. After all, how can we improve our health unless we know there's something that needs improving? Instead of wearable, Higi is shareable. But fear not - by storing everything in the cloud, the company is completely HIPAA compliant and cannot share your personal data without your consent.

How it works:

1. Take a seat.
2. Pick what you'd like to find out - I went with "complete all tests."
3. Enter your age, height, and gender.
4. It'll ask you to put your feet in a certain place so the machine can weigh you (don't worry, no one else can see the screen, so your info will remain private!).
5. Then you'll put your left arm through the opening in the blood pressure cuff.
6. It will show you your results as compared to what is "normal", or healthy (using a green-yellow-red graphical system).
7. If you create an account (for free), you can have your results emailed to you, so you can refer back to them later and be able to track progress for your next check-in.
8. And it's all free!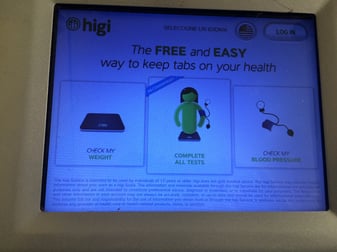 Challenges
Higi isn't meant to be a one-time touchpoint. If you make an account, you can participate in monthly health challenges, offering a fun and interactive way to work toward goals. They're running the "Swing Into Summer" challenge through the end of June, with an impressive 16,616 participants, after wrapping up the "Misfit Move More" challenge in May, which attracted 48,902 people to join. You can earn points by checking in at Higi stations to report progress, and by syncing any devices you have that track activity. Challenge winners enjoy prizes like gift cards, airfare vouchers, Bluetooth speakers, and other swag!
What did I think?
Having tested Higi for myself, I'd like to share my thoughts as an unbiased consumer. Ultimately, this is a great tool if you're unsure about the state of your health, or would like a tangible way to measure and record changes in weight, BMI, and blood pressure. Higi offers a simple, free way to do all of that.
But it does have its limitations: it's not a diagnostic tool, so while you may find out you have high blood pressure, for example, you'll need to look elsewhere to understand how to get it down. Additionally, the blood pressure test seemed to take an unusual amount of time, to the point where I lost feeling in my arm from my elbow down to my fingers. Having had a traditional blood pressure test done at the doctor's plenty of times, I'm fairly confident that's not normal. Lastly, if you're short like I am, it can get tricky to try and position your arm in the right place for the blood pressure test while still sitting in the seat provided.
Otherwise, I give it a thumbs up!
To learn more about Higi, visit their website at higi.com.
To learn about other innovations in healthcare, download our free e-book,
The Rise of Innovation in Corporate Healthcare!