From the time of George Washington (who, by the way, had a prescription +3.50), many a man occupying the Oval Office has needed vision correction. However, the majority of US presidents have preferred to only sport their glasses outside of the public eye. Based on official White House portraits, only three American presidents wore glasses full-time: Harry S. Truman, Theodore Roosevelt, and Woodrow Wilson.
But that doesn't diminish the impact that the glasses (or presidents) have had. Here's a look at history through the eyes (literally) of our 44 former presidents.
---
The Original Visionary ("O.V.")
Ironically, our second president John Adams was farsighted (he could see distance clearly, but nearby objects? not so much) both politically and optically. He wrote the Massachusetts Constitution, which eventually came to serve as the model for the U.S. Constitution.
In terms of optics, he had basically the same prescription as his predecessor Washington: +3.50 on his right side, +3.59 on the left. In laymen's terms, this is bad enough to need corrective wear full-time, but not extreme.

Roosevelt's Rescue
Theodore Roosevelt was the first president to be photographed in his frames. He wore a distinctive pair of pince-nez (pronounced "ponce-NAY"), a style of glasses which looks just as uncomfortable as it sounds – they have a C-bridge and are held perched on the nose by nose pads.
For their hard-to-pronounce name and level of discomfort, in a way these pince-nez saved our president's life. Roosevelt was outside his hotel on the way to make a speech in Milwaukee when unemployed saloonkeeper John Schrank attempted to assassinate him. Although the bullet did hit its target and lodge against one of Roosevelt's ribs, its path toward the heart was halted by a combination of his substantial coat, folded 50-page speech, and – get this – his steel-reinforced eyeglasses case.
Nonetheless, the man insisted on delivering the speech before allowing his aides to take him to the hospital, assuring the audience that "it takes more than that to kill a bull moose."
Pince-nez for Prez
Teddy was a very popular president, and when running for political office Franklin D. Roosevelt did some things to emulate his cousin, including borrowing inspiration from his style of glasses. Just like Teddy, FDR rocked a pair of pince-nez. He was nearsighted (can see near, not far) and started wearing glasses as an undergraduate at Harvard in 1900.
Shady Politics
John F. Kennedy and his wife Jackie introduced a new flair to American presidency, including in their chic choice of sunglasses. Although JFK only had a mild prescription, he made a trademark out of his tortoise shell AO Saratoga and Ray-Ban Wayfarer sunnies. The now-classic look got its popular roots thanks to this president. Surely protecting Americans' eyes from dangerous UV rays was his intention, not setting a fashion trend.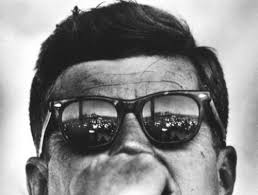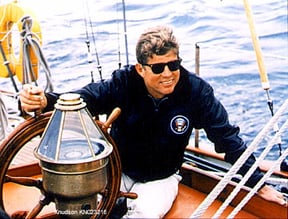 Optics Over Opposition
Kennedy's Vice President, Lyndon B. Johnson, is the most recent president to be frequently photographed in glasses. He split his time between two different styles: full-rim, plastic, translucent glasses and the brow-line style that was very popular in the 1960s. Although LBJ didn't have much else in common with civil rights leader Malcolm X, concidentally they both liked the same type of frames.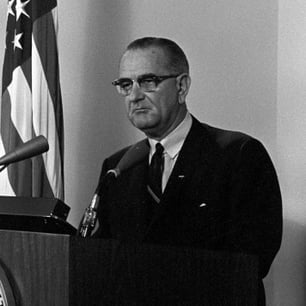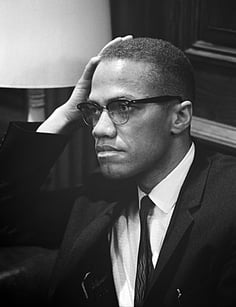 ---
Making sure our leader sees clearly (literally and figuratively) is crucial. And as was the case with FDR, you never know when being four-eyed could just save your life!
If these esteemed American leaders have inspired you to get some new glasses this President's Day, head on over to our Frames page and place an order!
"Which Presidents Wore Glasses?"
Cohen's Fashion Optical
. N.p., 21 Feb. 2011. Web. 15 Feb. 2017.
"

JFK's Favorite Sunglasses." Vintage Cool Hunter. N.p., 28 May 2016. Web. 16 Feb. 2017
.
Klein, Christopher

. "

Shot in the Chest 100 Years Ago, Teddy Roosevelt Kept on Talking." History.com. A&E Television Networks, 12 Oct. 2012. Web. 16 Feb. 2017

.
Lindell, James

. "

Four-eyes for President." BostonGlobe.com. N.p., 13 Feb. 2015. Web. 15 Feb. 2017

.
Surrence, Matthew

. "

Presidents Day: It's All About the Glasses." Through the Lens. N.p., 08 Feb. 2014. Web. 15 Feb. 2017

.
---