With more people working from home than ever before, going back to school remotely, and keeping in touch with friends and family virtually, screen time is at an all time high. As you may have seen from our previous 2020 On-site blog post, increased blue light exposure has many of us turning to blue filtering glasses to help ease tension and strain on the eyes, whether or not we typically wear a prescription. But our glasses don't just have to be functional, they can be an important asset in showing off our personality too!
We are excited to be back for #styledby2020 to give you more style "how to's" for our next featured frame. Today we are highlighting our very own 2020 On-site Client Success Manager, Olivia, in her new RED Ray-Bans! We're showing you that your work or school frames don't have to be all business - the perfect frame can also be a fun everyday part of your personal look.
Red frames are a big trend for 2020, and they are the perfect way to bring a little pop to any outfit. Below, Olivia shows how she styled her red frames with three different looks. We think they're the perfect add on for any occasion!
Business Casual:
Raise your hand if you're living that "business on top, loungewear on bottom" life! On more than one occasion we have found ourselves in a cute blouse for a work zoom meeting, while secretly hiding my sweatpants below camera view. Since virtual work or school outfits are "in-camera-view-only" nowadays, adding a fun color frame can be the perfect way to pull an outfit together while making sure you are looking professional. Olivia paired her red Ray-Bans here with a trendy yet professional leopard blouse -- but you can easily pair a red frame with any solid or patterned top. Floral, polkadot, striped, plaid...anything goes! A red accessory can be paired like a neutral, so try it with anything in your closet!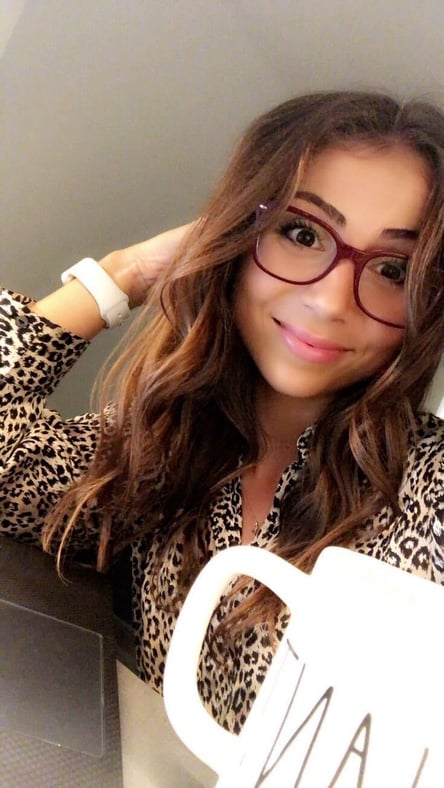 Classic Casual:
As is true with any colorful frame, pairing them with your wardrobe staples and classic neutrals is a great way to make any look a little more exciting. Olivia highlights this by adding her red frames to her easy go-to pieces, perfect for a casual WFH day or online classes.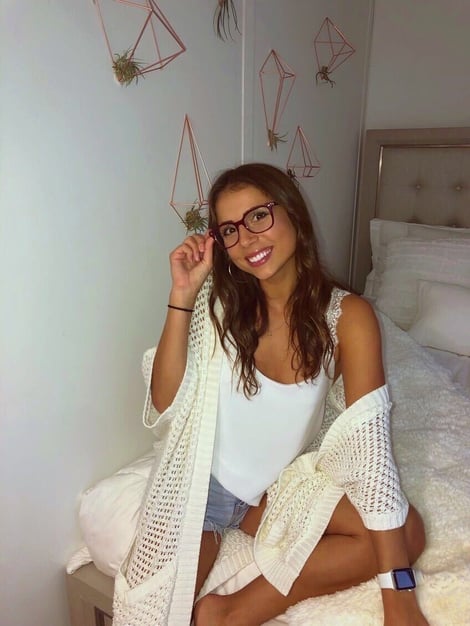 Dinner Date Chic:
Date nights and socializing with friends and family come in many forms these days. Whether you're ordering take out and dressing up for a "date night in" with your partner, or meeting a friend on an outdoor patio at a local restaurant, there's no need to put away your glasses after the work or school day wrap up. Olivia has styled her "fun night in" look with a neutral jumpsuit with pink accessories. Pink and red are a fun and fashion forward combination.
Ready to try some red frames? Check out our Red Collection online, or find some when you get your eye exam, in person.
And be sure to tag @2020onsite and #styledby2020 when you share your new frames!
Got your eye on a pair, but not sure how to style them? Send a link from our online store to styling@2020onsite.com and they may be our next style feature!