Down with sad desk salads! You don't have to be bored to tears every day in order to have a healthy lunch. And you don't have to spend money eating out in order to get something tasty. We've rounded up some of the yummiest -- and healthiest -- ideas for make-ahead lunches, from DIY instant noodles and tasty bowls, to unique and satisfying salads. With just a little prep time, you can save yourself time and money, and truly enjoy your midday meal.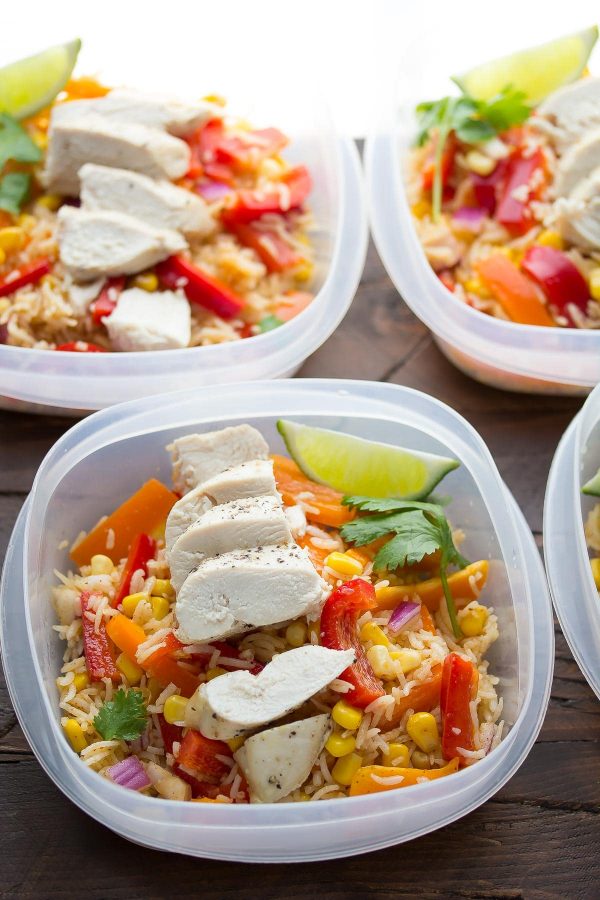 Image via sweetpeasandsaffron.com
Prep these on the weekend and they'll stay good in the fridge for several days! Bring fresh avocado to add before you eat.
Who doesn't love a good slice of pizza? A carb-less version loaded with toppings of your choosing is a great vitamin rich lunch to add to your routine.
Grilled cheese is a childhood staple, but it may be time to mix it up for a more adult palette! The fresh basil leaves, tomato, mozzarella, and sourdough gives this sandwich a more artisanal presentation that's just as flavorful as it is fulfilling.
These tasty roll-ups are a great low-calorie take on the traditional dish. Zucchini, with its boost of potassium and other nutrients, serves as a healthy alternative to pasta carbs, as well.
Take advantage of the tail end of the summer season with this Summer Spinach Strawberry Salad. With the addition of pecans, dried cranberries, and Gorgonzola to this fruit and veggie combo, this salad is a refreshing blend of sweet and savory that'll add a little kick to your lunch.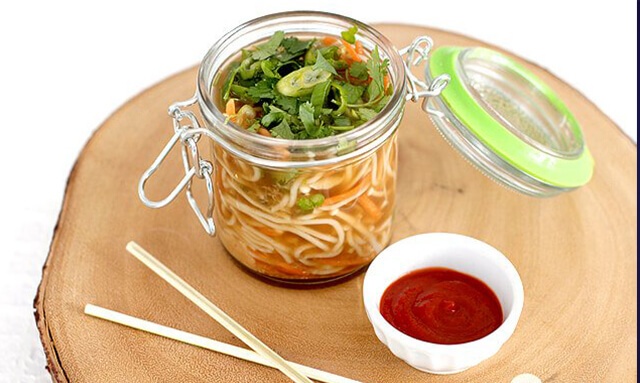 Image via OneGoodThingbyJillee.com
Ramen noodles have in recent years become a gourmet treat. But these DIY noodles are the answer to getting this restaurant quality dish the way that you want it. Plus: You can make and store this meal in a mason jar.
Tacos are a fun and fast option for lunch, and crunchy lettuce makes a great no-carb swap for tortillas. Pack your filling in one container, and your lettuce in another to keep it fresh and crispy!
An Edamame Salad is a nice replacement for your normal lettuce, romaine, or kale option. This soybean base provides a healthy dose of protein. Check out all the great combo ideas we found on Pinterest!
Basil-lemon dressing provides a nice splash of citrus to this hearty combination of grains and vegetables. Quinoa is a filling grain that's packed with plenty of protein.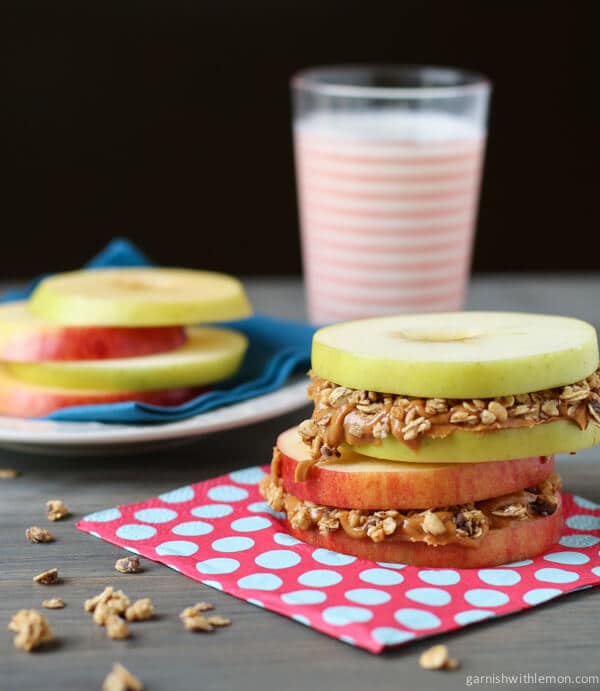 Image via GarnishwithLemon.com
As the saying goes, an apple a day keeps the doctor away! And these "sandwiches" are a good way to help you get in a dose of recommended fruits, protein, and grains.
This BLTA (that's bacon, lettuce, tomato, and avocado!) wrap is the answer to your night-before lunch prep. As simple as it is delicious, this you can put together this wrap in five minutes or less.
Add some spice — and much needed flavor — to your lunchtime routine with stuffed bell peppers. These vitamin-rich veggies can be filled with any number of your favorite food combos, from chicken and rice to ground beef and cheese, and they're a great way to keep yourself in check with portion control.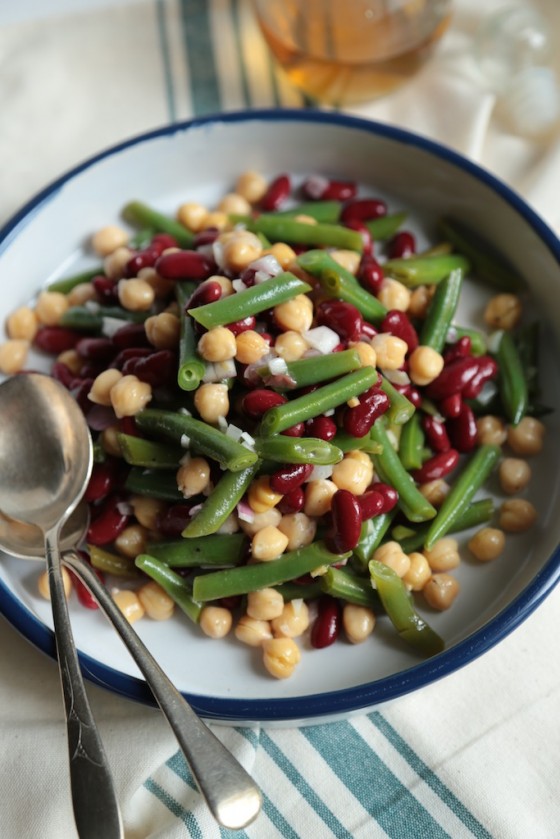 Image via CountryCleaver.com
Green beans, garbanzo beans, and kidney beans replace traditional salad fixings in this tasty and filling dish.
Whether savory or sweet, homemade empanadas are a just as fun to make as they are to eat, especially since the sky's the limit when choosing what to stuff inside of these pastries.
As fall draws near, think about bringing in the season with this aptly themed Autumn Pear Salad. Greens drizzled with balsamic vinaigrette and paired with candied walnuts and pears make for an interesting mix of flavors.
The mint in this recipe makes it a super refreshing -- and super satisfying -- midday pick-me-up. Plus, did you know that superfood lentils, with their high levels of soluble fiber, help to reduce blood cholesterol?
Skirt steak is quick to cook, and this spicy-sweet charred corn salsa mixed with juicy summer peaches packs an amazing flavor punch. Even better? According to SeriousEast.com, it "tastes great chilled, right out of the fridge."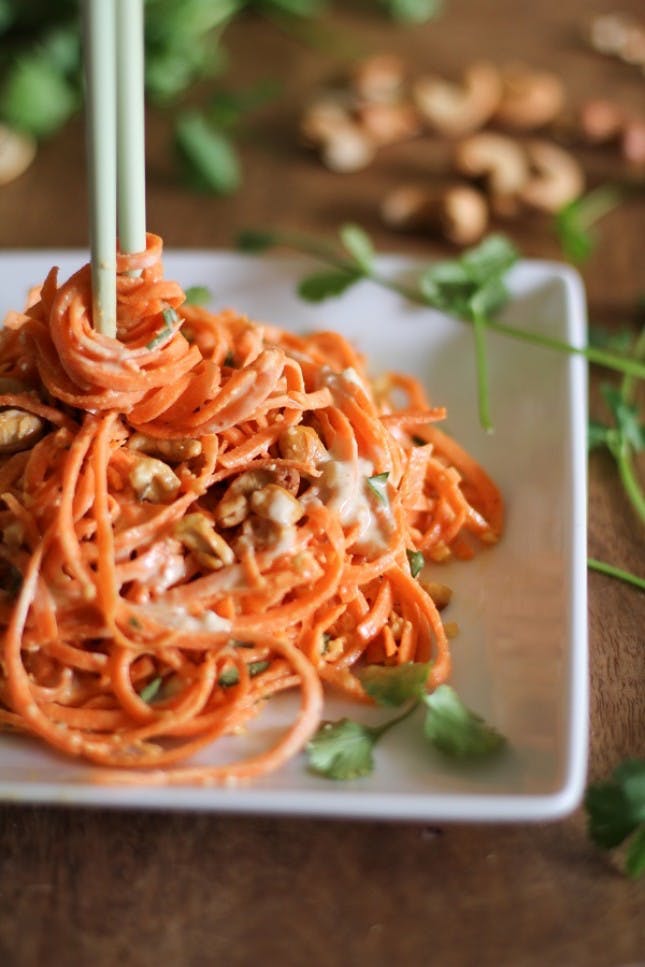 Image via theRoastedRoot.net
Fresh, crisp, crunchy, and delicious. What's not to love? (Oh also -- carrots really ARE good for your eyes!)
You'll be wanting a beverage, of course with these awesome lunches. Check out these cool mugs that will help make your day!