With over 75,000 apartment units located in the Greater Boston area, it can be a challenge to make your building stand out to prospective residents — especially at a time when vacancy rates have increased due to the pandemic.
However, with a little creative thinking, there are ways to increase your property's occupancy rate and current resident engagement rate. Learn how you can make your residential building more competitive and residents excited to move in!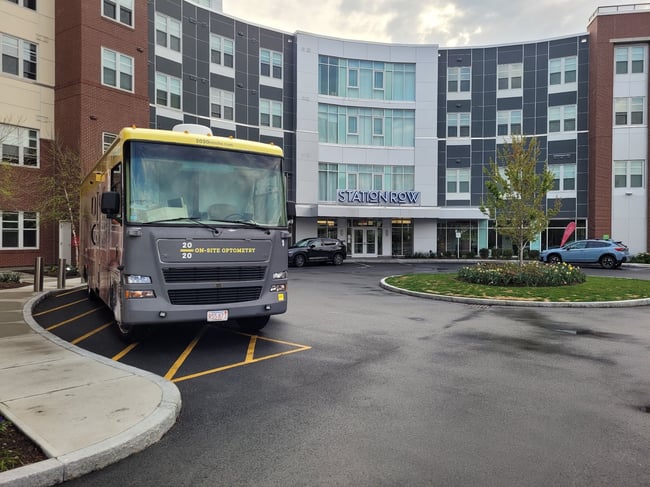 2020 On-site at Station Row located in Providence, RI.
Offer Unique Amenities
One way to make your residential building more competitive is to think outside the box when it comes to amenities. While an in-house gym or laundry room is definitely beneficial to residents, opt for additional services that potential residents may have never seen before or that transform their living arrangements into a five-star experience.
Additionally, offer amenities that can apply to a wide range of demographics. An amenity accessible to all is a great way to include every resident and build a complex community. Here are a few examples:
Pet owners: in-house pet spa or a doggy relief area

Family: childcare options or rec room areas

Students or people working from home: coworking spaces or free printing services
Lastly, tap into local businesses for ways to bring a unique touch to your offerings and build a sense of community among residents. There are dozens of unique on-site services in the Boston area, from on-site dentistry to dermatology, that can make your building stand out and will show your residents that you care about their health.
One way to introduce unique health care benefits is to partner with 2020 On-site. Your property will be known as the leading place to live when our mobile vision clinics travel to your residents to offer eye care from the comfort of their home. Your residents don't need to worry about traveling to their optometrist to refill their prescription or receive their routine eye exam — their wonderful property managers got them covered!
Our eye care staff and services have received positive reviews from residents at complexes located in Massachusetts, Rhode Island, and New Hampshire including West of Chestnut Quincy, Serenity Boston, Watertown Mews, and Station Row Apartments:
"[I enjoyed] not having to go anywhere since the truck was on-site at the apartment complex." - Watertown Mews resident, April 2021
Charlie Kelly, an Assistant Property Manager at Cambridge Park Apartments says residents are raving about the convenience of 2020 On-site:
"[Feedback] has been resoundingly positive. Residents are excited [2020 On-site is] coming. They say 'That's so cool! I don't want to take my kids to the doctor, or, my contact lens prescription just ran out.' Older residents also appreciate it since they get their eyes checked more regularly without the hassle."
Find your edge with 2020 On-site, and let our services wow your residents — leaving them grateful to live in a complex that values their health.
2020 On-site visiting The Washington in Melrose, MA.
Increase Resident Engagement and a Sense of Community
Residents want to live in a complex that values a sense of community. This is especially true if your building is home to multiple families looking to get to know their neighbors a little better.
Property managers can increase resident engagement by hosting activities or events that can bring everyone together. Consider hosting special events in common areas such as happy hours or craft nights, or promote fun off-site activities to get individuals more involved in the community.
You can also increase engagement through your amenities. For example, when you bring an on-site service like 2020 On-site to your property, residents can make appointments for the entire family (and for children over eight years old) and share their fun eye exam experience with other residents.
At the same time, residents will appreciate your efforts to prioritize their health and wellness — increasing lease renewals and occupancy. Furthermore, valuing your residents' medical care will make them feel their health is valued, increasing a sense of comfort and trust with the residential complex.
Book an appointment for one of our mobile vision clinics to travel to your residential building for all your residents to enjoy. It takes less than 30 minutes to connect with us and set a time for our arrival — then and we handle the rest!
"We're always looking to offer conveniences and services that show we're thinking about our residents' lives — we want to make it better, easier, and more convenient." - Charlie Kelly, Assistant Property Manager.
Let your residents know that they are valued in their community by offering them health services from the comfort of home.
2020 On-site visiting The Everly in Wakefield, MA.
Post Testimonials and Encourage Online Reviews
Once your unique amenities and services are rolling, residents will begin to post positive feedback across social media and other review sites. You can leverage these reviews in marketing content and promotional materials to prospects. Additionally, if residents see their testimonial has been posted, it makes them feel a part of a community, which in turn encourages them to share again. This is a win-win for everyone considering prospective clientele will be happy to see such great reviews!
Take it a step further and encourage residents to post themselves. We want them to feel pride in being an advocate. Word of mouth marketing should never be underestimated — it's the oldest (and one of the best!) trick in the book. Book with 2020 On-site and receive reviews like this:
"This was so easy, I was notified through my apartment complex. Booked an appointment right on the website and walked over the day of my appointment! The bus is so clean and the girls that work there are awesome, so welcoming! 10/10 I would recommend to anyone looking for a quick and convenient eye exam!" - Janelle, Cambridge Park Resident
At 2020 On-site, we are constantly sharing patient testimonials and their awesome experiences when our mobile vision clinic visits their residential buildings. Schedule an appointment with us to offer one-of-a-kind service to your residents, and we'll share your visit on our social media!