In the age of instant gratification with social media, food delivery apps, and online shopping, we expect our experiences to be fast, easy, and enjoyable. Why shouldn't that include health care visits? What used to be seen as inconvenient has now transformed into a mobile sensation.
We've compiled a list of some on-site health care services located in the Greater Boston area. From eye care to dentistry, you can prioritize your health with white-glove service right at your front door.
Virtudent
Photo from Virtudent
Based out of Boston, Virtudent brings dental care to you! The company's goal is to provide convenient and accessible dental care to not only their commercial clients but to communities in need. They partner with the Smiles for the Greater Grin program to provide dental care to the Boys and Girls Clubs, homeless shelters, and local schools. Through oral hygiene education and dental care, Virtudent is creating brighter smiles and healthier gums.
Phone: (877) 487-4295
2020 On-site
Photo from The Business Journals
Headquartered in Boston with service hubs in Chicago and Atlanta, 2020 On-site offers affordable, convenient vision care. Our experienced optometrists will have you in and out with the blink of an eye (our quick 30-minute appointments allow you to get back to your day)! We frequently visit offices, neighborhoods, and schools to provide eye exams and, if needed, glasses or contact lenses (we have a vast collection of over 400 frames!). Not to mention, the eye care team onboard our mobile vision clinics is fully vaccinated and abides by the best CDC practices. Book your on-site eye exam with us today!
SmileSuite Boston
Photo from Smile Suite
Looking for convenient dental care? Smile Suite brings the best dental practices to you in a sleek mobile unit. Headquartered in Boston, their van drives directly to patients, saving them time and the hassle of traveling to the dental office. Start with a free consultation to discuss Invisalign, whitening, or med-spa services. Their team wants you to leave with the sparkling smile you deserve without the headache of driving to an office. Contact them today to find what services best fit your dental needs.
Phone: (844) 992-5446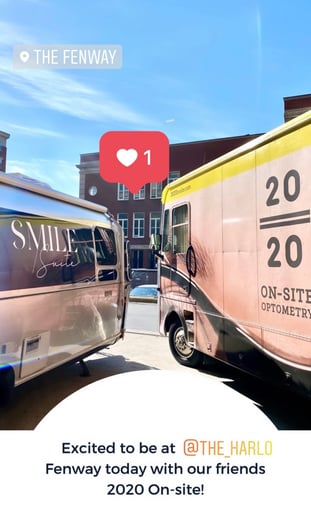 Sometimes you can catch Smile Suite and 2020 On-site in the same area!
myOnsite Healthcare
Photo from My Onsite Healthcare
myOnsite Healthcare provides at-home and in-office phlebotomy services. Founded in Sarasota, FL, myOnsite Healthcare has expanded to over 22 states during its 16 years of experience. Now traveling all over the Boston area, myOnsite Healthcare has satisfied thousands of patients from pediatric, geriatric, and busy office workers. They pride themselves on creating a safe environment for every appointment through social distancing and at-home care — especially during the pandemic. Learn more about their services on their website.
Phone: (941) 271-0701
Mass Mobile Phlebotomy Services
Photo by Karolina Grabowska
Mass Mobile Phlebotomy Services provides superior phlebotomy appointments right to your door or doctor's office. They work with pediatric, geriatric, mental health, and special needs patients all over the Boston area. In response to the pandemic, they currently offer antibody testing for COVID-19 and Polymerase Chain Reaction (PCR) testing. Learn more about Mass Mobile Phlebotomy Services on their website.
Phone: (857) 244-0483
OnSite Medical Imaging
Photo by MART PRODUCTION
Headquartered in Newton, MA, and serving patients all over the Boston area, OnSite Medical Imaging provides a wide range of diagnostic testing services including x-rays, cardiac and vascular ultrasounds, Holter monitoring, pulmonary function tests, and much more. Their goal is to offer radiology services that match or are lower than a contracted rate. They make frequent visits to patients in their homes, nursing facilities, assisted living programs, hospitals, correctional facilities, campuses, and job sites. Learn more about OnSite Medical Imaging on their website.
(619) 244-9730
Commonwealth Mobile Oral Health Services
Photo by Nadezhda
Based out of Lakeville, MA, Commonwealth Mobile Health Services strives to supply accessible dental care for those in need. No matter your situation — whether you have private insurance but don't regularly see the dentist, have MassHealth, or no dental insurance — they are there for you! They make common visits to schools, community centers, assisted living programs, daycare centers, and residential programs in the Boston area.
Phone: (508) 947-0111
Convenient on-site health services in the Boston area
Finding the right health care service has never been so easy - and safe! These Boston-based on-site health services provide the utmost comfort by bringing care to your neighborhood, office, or your front door. Join the community of satisfied patients today and make an appointment with a well-reviewed service above.