Despite all our best intentions to get up, move around, and exercise more, there are times when we're locked at our desks for an entire day--sometimes even for more than one day. Here are some simple ways to improve muscle tone, burn calories, and get a whole-body workout without leaving your desk.
1. START BEFORE YOU SIT DOWN
If you know you have a day or a week like this coming up, start before you even get to the office: park your car further away, get off the bus one stop earlier, or just walk around the block before your go through the doors.
If your office has stairs, take them instead of the elevator, at least for a few floors. These more-than-usual steps will wake up your metabolism and act as a muscle warm-up.
2. THINK IN 30-MINUTE CHUNKS
To get the most activity out of an inactive day, set a timer for 30 minutes, and keep setting it for every 30 minutes throughout the day. When it dings, do one or more of the following exercises, which take only a few seconds or minutes (and many can even be done while you're still working.)
Some of these may draw a little attention to you, but hey, you're doing a good thing and maybe your hardworking colleagues will join in.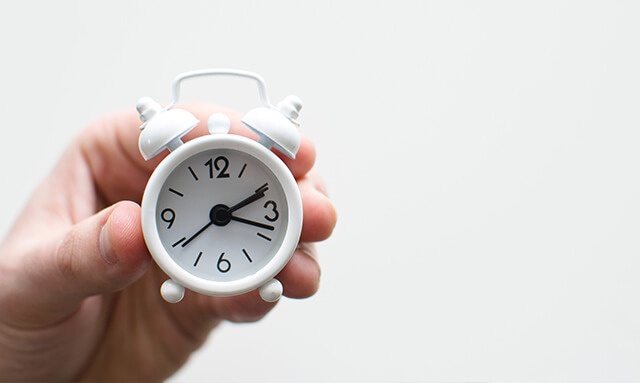 Photo by Lukas Blazek on Unsplash
3. HYDRATE
One or two cups of coffee a day are fine, but you'll feel better and will do more to keep your energy going if you drink water at your desk.
Fill up a big container (at least 16 ounces) and drink it all up before lunch. Do the same thing in the afternoon.
4. KEEP THINKING ABOUT YOUR FEET
Seated walking: While you're sitting at your desk, move your feet up and down as if you're walking. Yes, that's all there is to it.
If you want to get bold with this, go faster, as if you're running. You can do this all day long, if you want to.
This "fidgeting" burns calories--up to 350 per day, according to Fitness Blender.
5. MOVIN' ON UP: LEGS, HIPS, AND BUTT
Knee raises: Sit up straight in your chair, with your knees at a 90 degree angle. Now raise one foot off the floor and hold it in that position as long as you can. Repeat with the other leg. This exercise works your quads and your hips--you'll feel it after a few minutes.
Leg Raises: From seated, lift your legs so they are parallel (and still invisible to your neighbors) under your desk. Your quads and hamstrings will thank you.
This is a good move to alternate with your feet-walking activity. You don't want your lower body to get bored.
Chair squats: That's right, chair squats. Push your chair back, and then get into a sitting position. Lift up so that your buttocks just touch the chair, lower, and repeat.
Do this for a minute. It's hard, but so worth it!
Butt squeezes: Clench your butt muscles and hold for as long as you can. Release and repeat.
Printer calf raises: When waiting for documents to print, lift into your tiptoes and back down again. Do as many as you can, each time you print.
This strengthens the backs of your legs and your calves.
If you have a super fast printer that has the job ready by the time you get there, do some calf raises anyway, as long as you're up.
6. GETTING TO THE CORE
Ab hold: To start, simply pull your abs in, as if you were going to touch them to your back, and hold. This is an anytime, anywhere movement that will tighten your ab muscles and improve your posture at the same time.
It's easy to do, but hard to remember. That's why you're going to be setting that timer. Nobody will ever know you're doing these.
See the man in this photo? He may or may not be holding in his abs. Or doing butt squeezes.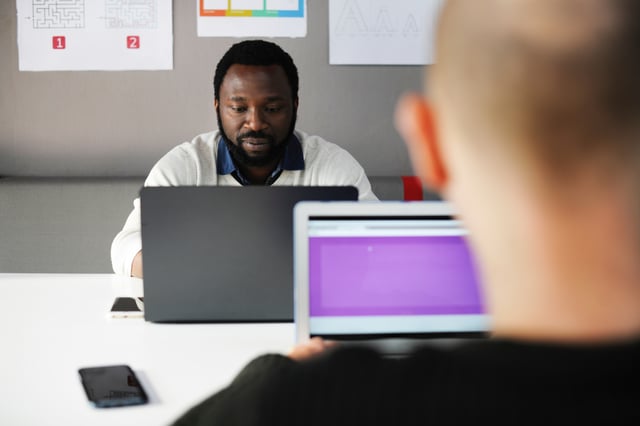 Photo by rawpixel.com on Unsplash
Ab Lift: Place both hands on the seat of your chair. Keep your knees bent and use your arms to lift yourself off the seat while trying to lift your knees as high as possible. (Obviously, no typing while doing this, but you can still read your screen…)
Chair swivels: Keep both feet on the floor, and swivel your chair from side to side. This is an excellent workout for your core, which includes your abs and back muscles.
7. ARM TONING
Bicep curls: Fill up a big water bottle. Then do a set of 20 bicep curls, and switch arms. The bigger the bottle, the better. According to Management Today, you'll burn 80 calories for each 10 minutes...now there's some incentive!
Wrist twists: Holding the same water bottle, move your wrists from side to side and up and down. This will strengthen your lower arms as well as your wrists and hands.
Tricep dips: Facing away from your desk, place your hands on the desk next to your hips, with your fingers hanging off the edge of the desk. Bend your knees and keep your feet flat on the floor. Then bend your elbows to lower yourself to a 90 degree angle. Straighten to return to your standing position.
8. HEAD, NECK, AND SHOULDERS
Shoulder raises: If you're like most people, you hold tension in your shoulders, and sitting at a desk only makes it worse. Whenever you can, give your shoulders a break. Lift your shoulders all the way up to your ears, hold for a second or so, and then let them drop. Repeat 10-15 times. Make this a habit, and you'll be releasing stress as you relax your shoulders.
Shoulder rolls: Raise your shoulders up to your ears, and then pull them down and back, so that your shoulder blades are almost touching. Hold for a few seconds, and repeat.
Neck stretches: Let your head drop toward one shoulder, and enjoy that stretch for a few seconds. Repeat on the other side. This will help to eliminate stiffness. For added intensity, use the opposite hand to pull gently on the head.
9. WHOLE BODY AEROBICS
Have a few minutes and some privacy away from your desk? (Or if you're not shy, go ahead and do them at your desk.) Jumping Jacks. These are especially good for that mid-afternoon slump, when you're thinking about caffeine and a sugary snack. Even a minute of these will raise your heart rate and wake you up.
According to New Health Advisor, most adults can burn 100-200 calories by doing 100 jumping jacks. WHOA!
Do as many as you can, then grab some water on the way back to your desk and bypass the sweet temptations.
10: STRETCH IT OUT
Yeah, just like this guy.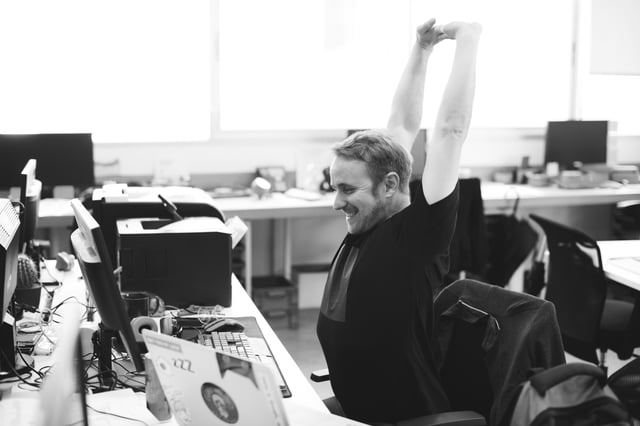 Photo by rawpixel.com on Unsplash
LEAVE THE WAY YOU CAME IN
Walk down the stairs. Go the extra distance to your car or to public transportation. Feel good about how you managed to move while desk-bound.
THERE'S AN APP FOR THAT
For more ideas on how to stay fit at work, check out our curated collection: 11 Apps to Help You Crush Your Wellness Goals.