Eye exams are often a crucial component of non-ophthalmic studies. Clinical trials for oncology, endocrinology, the central nervous system, and rare disease are just a few examples of non-ophthalmic studies that almost always require ongoing eye exams to assess the safety and impact of the treatments. Many PIs and their sites are not routinely providing eye care, making the logistics of finding specialists difficult for the site staff and the patient's experience more complex. Any complications with the specialty provider can put the trial at risk of delays.
Barriers patients face when it comes to on-study eye exams can include long wait times at the specialists and even patient age (there are limited eye care providers available throughout the country, and an even smaller number with the equipment and experience to handle young children).
To illustrate this point, an assessment conducted by 20/20 Onsite showed that patients in several New England counties are faced with long wait and travel times for certain eye exams. If routine eye exams are hard for certain patients to schedule, it's equally hard for patients enrolled in clinical trials. In some communities, a retinal specialist was over 100 miles away, and oftentimes, it was the same doctor for all patients. That can result in an extended wait time, even if something urgent comes up because everyone is going to the same practice.
3 reasons why mobile eye exams are the superior option
Now there is a better way for sponsors and CROs conducting non-ophthalmic trials that require eye exams to keep their trials on track: 20/20 Onsite's fleet of mobile delivery models and ophthalmic staff. Known as the leader in mobile vision care and available in the 48 contiguous states, 20/20 Onsite makes it more convenient for individuals to enroll and participate in your clinical trial by taking eye exams and study visits directly to them.
Here are three reasons why 20/20 Onsite's mobile vision assessments are the right choice for sponsors, CROs, and patients when it comes to non-ophthalmic clinical trials.
1. Mobile evaluations for safety testing are more convenient and efficient.
Safety evaluation is a central component in all stages of the drug development lifecycle but has a particularly visible role in Phase 1 trials that are focused on testing, not merely monitoring, safety. Ophthalmological safety testing can be required per Phase 1 trial protocols, whether or not the medical intervention is related to the eye. A number of low- and non-intervention eye assessments can reveal small changes pointing to, for example, retinal, vascular, immune, and digestive system health effects.
When non-ophthalmic studies require ophthalmic safety evaluations, leveraging 20/20 Onsite's mobile vision assessments can streamline the process and improve the patient experience. In fact, 20/20 Onsite recently supported a Phase 1 clinic to conduct safety eye exams to monitor ocular side effects caused by an investigational drug for an infectious liver disease treatment. Our Life Sciences team outfitted the clinic with our on-site Mobile Clinical Suite (MCS) to facilitate comprehensive ophthalmologic evaluations and imaging for trial subjects just 100 feet down the hallway.
Although the CRO had an in-house Phase 1 clinic, they didn't have the specialty staff or equipment necessary to conduct and review ophthalmologic assessments on-site, and they would need access to equipment and staff who could perform the eye exams required by the sponsor. Rather than leveraging relationships with local providers, the CRO took a more innovative approach that would reduce risks and the patient inconvenience associated with sending patients off-site for eye exams and tighten the communications between site staff and vendors with on-site care through 20/20 Onsite. As a result of using our MCS, the CRO successfully completed the Phase 1 clinical trial for the sponsor, and 20/20 Onsite was able to deliver the same high-quality care patients receive within the clinic while reducing risk and maintaining accurate data by conducting on-site eye exams.
The principal investigator said, "While working with 20/20 Onsite for previous and current studies, we have been able to provide ophthalmological services that were previously not feasible for our clinical units. Doing so has been very successful in providing safety and ophthalmological oversight of study participants – as required by good clinical practices and the sponsor protocol. In providing onsite ophthalmology services for our volunteers, we find that we can draw from those that may not have access to stable transportation and feel like we are able to provide a more diverse group of subjects for our research studies."
This case study illustrates why mobile eye exams are critical to the success of non-ophthalmic clinical trials. Mobile assessments reduce the patients' burden in a number of ways, including providing eye exams that don't require them to go off-site. The provider's burden is reduced because study staff now have a partner they can trust in managing patient exam schedules and taking study data. In addition, sites are not required to purchase new equipment to participate in a trial, and sponsor investment in equipment can stretch further.
2. 20/20 Onsite can conduct their own data reviews and provide custom exam forms for faster turnaround times.
Typically, sites review and translate data from local ophthalmologists into their EDC. The local specialist doesn't always use an exam form that mirrors the data fields in the EDC, which can create additional work for the site staff. 20/20 Onsite offers exam forms customized to the data entry fields being used for cleaner translation between systems and good study data.
Additionally, 20/20 Onsite leverages local optometrists and ophthalmic techs who assess patients on-site, while engaging ophthalmologists remotely to meet the review needs of the study imaging. While 20/20 Onsite is experienced in submitting images to preferred reading centers, often the site needs the images reviewed as quickly as possible. By keeping the reviews within our network, we are able to request expedited reviews from respected ophthalmologists.
To ensure our data is accurate, 20/20 Onsite conducted an observational study that confirmed that eye exams in mobile settings have the same quality as in-office exams. The study consisted of 20 subjects ages 18 through 60 who received eye examinations in both an office setting and onboard the Mobile Vision Clinic within a 30-minute period. In each testing location, patients were given autorefraction, keratometry, and subjective refraction testing, allowing investigators to collect 10 different data points on 40 unique eyes. Over 400 pieces of data were obtained for comparative analysis. The study concluded that mobile eye evaluations produce results that are just as accurate as in-office examinations.
3. Mobile eye exams reduce the patient's burden.
Clinical sites often lack access to convenient eye exams for their patients. As a result, patients are sent to off-site offices for eye exams, which creates a pain point: patients must coordinate travel to and from the optometrist and work around the office's schedule.
Requiring additional appointments and travel off-site may discourage participation and introduce the risk of delays or drop-outs. 20/20 Onsite's mobile solutions reduce these barriers and improve the patient experience, and enable patients to receive the highest quality care closer to home — meaning minimal life interruption for trial participation. In fact, on average, patients receiving care onboard our Mobile Vision Clinics travel just around 13 miles for care, while a recent study discovered a clinical trial participant, on average, travels 67 miles one way to visit a site.
Mobile vision assessment options for non-ophthalmic clinical trials
20/20 Onsite offers three unique delivery models for both ophthalmic and non-ophthalmic clinical trials.
Mobile Vision Clinics (MVC)
MVCs are retrofitted vehicles with full optometry clinics inside. MVCs make it easier for patients by bringing services directly to them and providing vital access to clinical trial assessments and tests.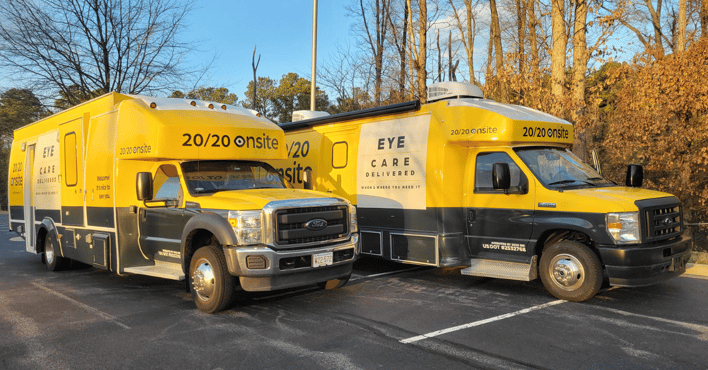 Mobile Clinical Suites (MCS)
In addition to MVCs, 20/20 Onsite offers Mobile Clinical Suites, which are pop-up eye clinics installed in clinical sites. That means patients do not need to go off-site to have their eye exam.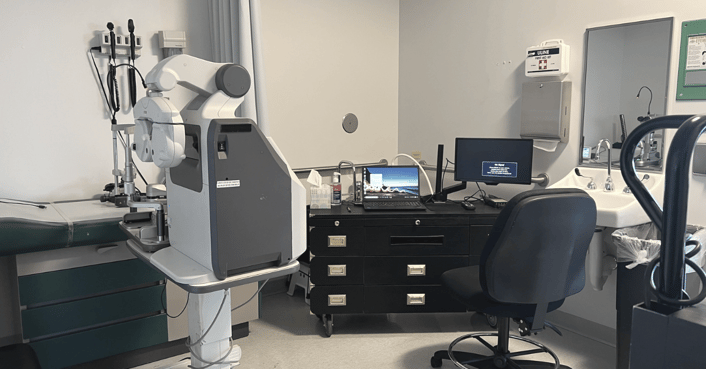 Mobile Vision Pods (MVP)
Flexible, semi-permanent standalone clinics known as Mobile Vision Pods are also available for trials with intense patient visit schedules.
All solutions feature trained staff experienced with clinical trial operations. When you use 20/20 Onsite's mobile solutions, you give patients temporary access to optometry services, which can in turn expand your geographical reach to areas that do not offer accessible vision care.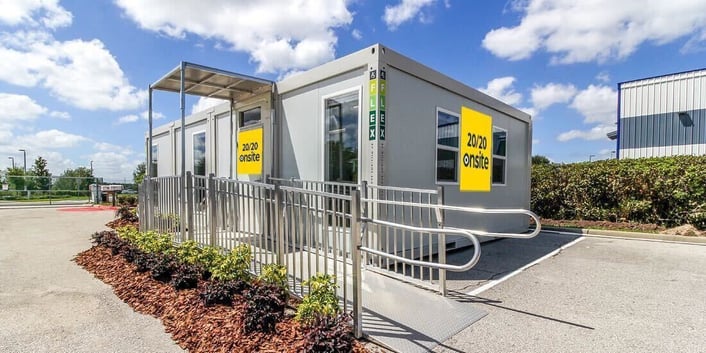 This short video demonstrates 20/20 Onsite's mobile optometry options and shows how 20/20 Onsite can support non-ophthalmic clinical trials.
Leverage mobile eye exams in your non-ophthalmic clinical trial.
To learn more about 20/20 Onsite's Mobile Vision Clinics, Mobile Clinical Suites, and Mobile Vision Pods, get in touch with us at lifesciences@2020onsite.com. We can provide a custom solution for your non-ophthalmic clinical trials to make accessing eye exams easier for you and your patients.