At 20/20 Onsite, we pride ourselves on providing excellent customer service and a great patient experience. As Clinical Trial Manager, Pamela Tomic plays a pivotal role in our team's ability to build strong relationships with our clinical partners and patients alike. Read our interview below to uncover how accessible mobile care creates a better experience for clinical trial patients.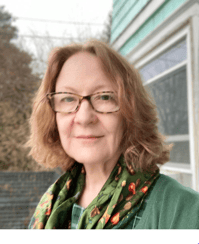 Describe your background and expertise. How did you get your start in clinical research?
I came to clinical research by way of working in medical imaging. I have extensive CRO experience in clinical trials with ophthalmology imaging endpoints and indications.
Describe your responsibilities as Clinical Trial Manager at 20/20 Onsite.
I provide hands-on support in the day-to-day management of clinical trials, and I help ensure the integrity of data collection. I also promote collaboration and communication among 20/20 Onsite team members and external clients.
Through the Mobile Vision Clinic, 20/20 Onsite delivers innovative solutions to common challenges associated with clinical trials. Since the Mobile Vision Clinic is held to unique regulatory standards, I develop the tools, documentation, and training we need to thrive and maintain compliance.
What trends are you seeing in clinical research and how is 20/20 Onsite helping studies keep up with them?
There is an enormous opportunity to diversify clinical trials, and people across the industry are committed to building a more inclusive participant base. Although there are more challenges than ever in patient recruitment and retention as a result of the pandemic, we are better equipped with solutions. Through increased transparency and patient outreach, clinical researchers address sociocultural issues related to trial participation.
For more expert insight, check out: [WEBINAR RECAP] "The Future of Clinical Research Sites: A 2022 Market Analysis of Where Sites Are Today"
How can a Mobile Vision Clinic alleviate common challenges or barriers to care? Are there any specific examples you've already experienced with our clients?
20/20 Onsite's Mobile Vision Clinics are uniquely suited to mitigate patient access and retention issues. Our participation in clinical research actively demonstrates the value of bringing the clinical site directly to the trial subjects.
The geographical reach, scheduling flexibility, and convenience of the Mobile Vision Clinics have already proved instrumental in retaining subjects and attracting study participants.
Further reading: Learn more about how On-site Mobile Care can alleviate patient enrollment challenges.
Why should sponsors, CROs, and clinical trial sites consider working with 20/20 Onsite?
Clients can tap into a wealth of expertise with ophthalmological assessments and work with an agile, responsive team. We customize solutions to clinical research with ophthalmological indications and endpoints. 20/20 Onsite will literally "be there" for clients.
Improve patient experiences and research outcomes with 20/20 Onsite
When care is accessible and convenient, patients are more likely to complete the trial and sponsors gather strong data. Through partnering with 20/20 Onsite, sponsors, CROs, and clinical trial sites can fulfill their research goals while ensuring patients have a positive experience. Contact us to learn more about how 20/20 Onsite reduces patient barriers and improves research outcomes.