20/20 Onsite is extremely passionate about providing a patient-centric healthcare experience to patients of all ages. Just last month, our Life Sciences team saw 44 patients,17 adult patients, and 27 pediatric patients in 12 different states! While our world-class team customizes our vision care experience for everyone, we're especially grateful for the opportunity to provide a unique experience for children.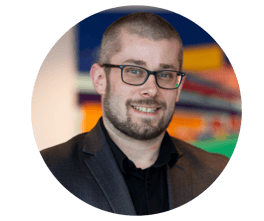 Read our employee spotlight with Senior Manager of Clinical Programs Operations, Adam Merola, to learn how 20/20 Onsite is prioritizing accessible clinical care for pediatric patients.
Tell us about your background in customer service.
My background is primarily in business management and secondarily music management. For 16 years, I worked in retail management and also was a tour manager, booking agent, and general manager for multiple touring artists. The result is a good amount of experience in customer service and leading teams. Also, my experience in music and touring helped provide the unique experience needed for routing our Life Sciences units throughout the United States.
Describe your responsibilities at 20/20 Onsite.
As Senior Manager of Clinical Programs Operations at 20/20 Onsite, my primary job is to interface with clients in the Life Sciences space and manage those projects. In addition, I manage the team that executes the actual clinic visits and travels around the country visiting patients. It's a multifaceted position where I'm responsible for a good amount of our Life Sciences projects.
What are the biggest and/or most common challenges that clinical trial professionals could encounter during the preparation or execution of a clinical trial, and how can 20/20 Onsite help alleviate those problems?
Speaking to healthcare professionals involved in the clinical research space specifically, there are a few words that we hear frequently – one of those is diversity.
When enrolling patients in a study, it can be a challenge to pull from diverse populations. This can be a result of geographic location, outreach capabilities, limited access to underserved communities when it comes to healthcare, etc. When conducting a clinical study, you want a more broad sample that would consist of examples within multiple demographics to achieve the most accurate results.
One way that 20/20 Onsite is able to solve this problem is by going to communities and bringing clinics directly to those patients who normally do not have access to this type of study or easy access without traveling. 20/20 Onsite's Mobile Vision Clinics and highly-rated staff provide a patient-centric experience brought directly to wherever the patient is.
Recommended reading: Now More Than Ever, Mobile Care Can Drive Diversity in Clinical Trials
Another word that we hear a lot in the clinical research space is retention. Once a study is underway, there are circumstances where patients may need to go to multiple sites to receive their assessments. Typically, people that are involved in clinical studies are less likely to want to go to multiple locations to receive these assessments. This is where sites begin to experience a lot of patient drop-offs.
20/20 Onsite offers to bring those assessments directly to the patient, making access to care a lot easier. We reduce patient travel by bringing our mobile equipment right into the site or parking our Mobile Vision Clinic right outside of the site.
How can Mobile Vision Clinics help sponsors, CROs, and clinical trial sites create a more patient-centric experience?
20/20 Onsite can support your trial in a number of ways. Whether it's because of enrollment or retention issues, 20/20 Onsite can step in to help solve those issues if you have a study at risk. Having our Mobile Vision Clinic go directly to your patients will increase patient retention and ultimately make sure that you're enrolling the number of patients that you want for your study.
In addition to assisting clinical trial sites, we can actually act as a site. This means that 20/20 Onsite is the primary location where your patients are going to receive assessments. This includes all follow-up assessments that take place during the study. Again, we're helping with their retention and diversity because not only are we bringing the site directly to the patient, but we're bringing all of the assessments directly to them as well.
Finally, we can also act as the extension of a trial site which means we are working in partnership with the primary site to offer those assessments that take place during the study.
Name two words that best describe 20/20 Onsite's position in the clinical research space and why.
The first word that comes to mind is necessary. One of our main functions is to help clinical trials with enrollment, screening, and ultimately successful completion. To me, our services are necessary for a lot of clinical trials from rare diseases to oncology…a lot of studies require monitoring of the eyes, and 20/20 Onsite is really a great patient-centric solution.
Another word to describe 20/20 Onsite is patient-centric. The same thing that I've been repeating this entire time – we're doing everything we can to make sure that the patients involved in a study are having the best possible experience.
Most of the time, studies are 100% results-driven. 20/20 Onsite really believes that we should increase the patient experience because if we do that, then we can retain and enroll more patients.
From the first minute that a patient walks onboard our Mobile Vision Clinic to the moment they leave, we want them to be having the best patient experience possible. We've heard so many stories, specifically with pediatrics, of kids being so much more comfortable during the assessment. Our staff can guide children through study assessments with minimal amounts of stress.
Describe the patient experience onboard for a pediatric patient.
A lot of children are hesitant to approach any type of healthcare environment. Children get freaked out by all the gowns, goggles, and scary equipment. Therefore one of the biggest things that 20/20 Onsite focuses on is ensuring that those patients feel comfortable.
I've heard multiple stories where the parents say, "We've tried this so many times before. Every time the doctor goes to dilate, my child freaks out. You guys are the first ones that have been able to actually put the drops in the patient's eye and get the proper visual."
Most recently, a pediatric center reached out to us to request we come to perform some assessments on their patients. These patients are awaiting a baseline exam to get onto a life-saving medication and some of them are as young as two months old. They could be waiting anywhere from six months to one year just for an appointment to start this medication. 20/20 Onsite was able to come in and get a visit scheduled within three weeks. Those patients are now able to get on this life-saving medication a few months to a year before they were originally going to be able to– which could potentially be a life or death situation for a small baby that has this particular condition.
What is the experience like for parents?
Related specifically to the program that I'm referencing, those patients have an array of appointments that they have to be at on a monthly basis. It's super difficult for them to manage their regular lives and, on top of that, make it to their twenty doctor's appointments scheduled for that month. In my communications with patients prior to the visit, they're super appreciative that we reached out to them. We get them scheduled at a time and place that's convenient for them.
When they come onboard our MVC, their experience is all tied together. Our clinic managers and doctors know exactly what to do and how to deal with certain challenges that these patients may face. We make the whole process easy for the parents while making it fun for the kids. I know when I was younger, I would have had a positive experience if I could have gotten my eye exams done in a cool truck with big tires.
The best part is that there is no follow-up required! After the assessment, there is nothing required by the parent because all of that is taken care of by 20/20 Onsite. We'll make sure that the parent is aware of the results and that the center gets those results.
We are taking that extra responsibility off the parents' shoulders. From the minute they schedule the patient's appointment until the day of their appointment, we'll provide the support that they need.
Overall, I would say it's a great experience. We constantly hear feedback from parents and healthcare professionals saying that we are still running a 98% in our Net Promoter Score (NPS).
What do you think is the coolest part about being onboard our Mobile Vision Clinics?
Well, there are a lot of cool things about our mobile vision clinics. My favorite thing would be the people in the clinic. Our staff, the patients that come on board, their parents, the healthcare professionals, and everybody that's involved with our Mobile Vision Clinic. Without all of those things coming together, we're really just an expensive machine. So for me, it's definitely the people that we get to work with on a daily basis, as well as the people we get to help by providing our services.
Why should sponsors and CROs consider working with us to improve their pediatric patient experience?
Just going back to those two words we identified before – retention and patient-centric – these centers need diverse populations to be enrolled in clinical studies. The reality of it is that it's not really happening. They're trying so many different things like hybrid studies and using mobile apps. Sites really need to think about the best way to get these assessments to patients instead of using technology that still requires them to do a lot on their own. For instance, I would not be sending a mobile phone to someone like a grandmother or a child, who may not even know how to use it or be capable of using it to complete the study.
Partnering with 20/20 Onsite can improve the patient experience and improve trial outcomes.
If you have an upcoming clinical trial that requires special vision care or assessments for pediatric patients, 20/20 Onsite's clinical program services may be a great option. Get in touch with us today so we can get the conversation started.