One of the biggest struggles facing clinical trials is patient retention. Clinical trials can have a patient drop-out rate as high as 30%, resulting in missed timelines or discontinuation of the trial altogether. 20/20 Onsite is here to help change that.
Read our next employee spotlight interview with Chief Clinical Officer Dr. David Gibson to understand how 20/20 Onsite is improving trial outcomes through an exceptional patient experience.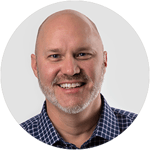 Tell us about your background in vision care and your role at 20/20 Onsite.
My background is in routine optometry. I started a private practice in Durham, NC in 1998. Then in 2001, I bought my own practice in Cary, NC. I ran my own practice until 2016 when I moved to Atlanta. There, I began my work with 20/20 Onsite. In Atlanta, I was an optometrist providing routine care in the metro Atlanta area for two years. In 2018, I took on the additional role of Chief Clinical Officer. The back end of my career got me practicing and more involved in the full scope of optometry, such as being involved with trials and offering medical care.
As Chief Clinical Officer, I am in charge of all our employed routine optometry doctors and involved with anything that happens with the clinic as far as patient care. It's the same thing on the life sciences side as well. All of the contracted doctors that we have will eventually flow to me. I am also responsible for operational logistics such as scheduling, inventory customer service, revenue cycle management, and merchandising in routine optometry.
In life sciences, I lead our compliance team as well as our clinic managers and clinical trial managers. I am also the primary investigator for clinical trials where we are a trial site.
How can life sciences and biopharma leaders create a better patient experience with mobile care?
The world is designed to be provider-centric, not patient-centric. The biggest thing they can do is to make life sciences and clinical trials more inclusive and patient-centric. The goal of a trial is to improve the lives of patients through pharmaceutical or device intervention. However, the process of getting to that goal is not always patient-friendly.
Is there a patient story that proves how 20/20 Onsite is doing that well?
Yes, there is. There is a subject that we see in New Mexico whose trial site is located in Miami. The subject was really about to be lost to follow-up; this is someone that should really be included in the trial. We were able to come in and see them multiple times. This has spared them multiple trips from New Mexico to Miami.
What does 20/20 Onsite do to create an exceptional patient experience?
We bring a clinical trial to the patient, as opposed to the patient having to come to the clinical trial. We provide a more tailored and customized experience for the patient that caters to their lives and their schedule. This creates happier patients who may not be as apt to withdraw from a trial.
Besides delivering clinical research to patients, how else is 20/20 Onsite innovating in this space?
We are doing a lot of remote pre-screening. I am completely remote now, so it's not dependent on me having to be there. Providing remote oversight allows us to be more nimble, so we can go wherever we need.
We also provide a more tailored and boutique experience for patients. Each patient is a VIP and not just their subject number. We can now go to a patient's house, which we have never been able to do before. At the beginning of the year, we will actually be seeing patients inside their homes. That speaks for itself — it will be awesome.
What impressive milestones has 20/20 Onsite hit this year that embodies its mission?
We have successfully completed our first ever phase 1 trial allowing patients not to have to leave the clinic for their eye assessments. We have been able to touch and improve lives in all 48 of the contiguous U.S. states with little to no impact on the patients' lives.
What excites you most about where 20/20 Onsite is headed, especially in clinical research?
Professionally, I am rewarded that we are able to expand opportunities to allow optometrists to practice to the full scope of their education and training. Many optometrists never get to do more than routine care. It is exciting to offer my colleagues the ability to use all of their skills.
Why should sponsors and CROs work with 20/20 Onsite?
Honestly, we are the best at what we do and what we do is critical in ensuring the success of a trial.
Learn more about how we bring the best experience to patients in our employee spotlight featuring Albi Santiago, Senior Manager of Fleet Operations.
Partnering with 20/20 Onsite can improve the patient experience and improve trial outcomes. If you have an upcoming clinical trial that requires eye exams, 20/20 Onsite's clinical program services may be a great option. Contact us today so we can get the conversation started.