In 2022, DPHARM: Disruptive Innovations to Modernize Clinical Research Conference brought industry leaders together to explore three factors essential to innovation in clinical trials:
Leadership and organizational attitudes
Risk tolerance
Strategic partnerships
20/20 Onsite attended DPHARM 2022 to stay ahead of the curve in clinical research while fostering partnerships and innovative thinking for an improved patient experience. As we gear up for DPHARM 2023, revisit CEO Sonali Bloom's key insights from the previous year.
Clinical research leaders and organizations must rethink their attitudes toward patient burdens.
One of the biggest challenges in clinical research is recognizing and addressing the patient burden.
Several sessions at DPHARM 2022 highlighted opportunities for sponsors and CROs to reduce the hassle and inconvenience of clinical trials.
Most clinical trials leave much of the burden to the patient, but considering the 'coefficient of burden' allows leaders to pinpoint the barriers hindering participation.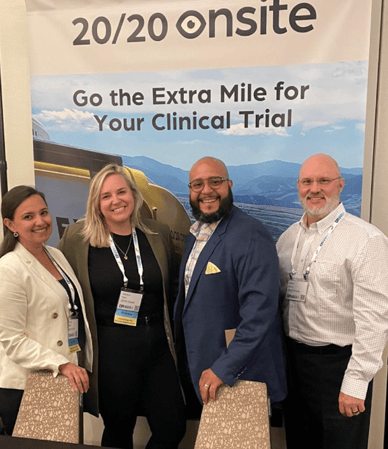 Sonali Bloom, Jess Mays, Ivan Quiroz, and Dr. David Gibson at DPHARM 2022.
Balancing innovation with the human element is crucial.
Though innovation is a top priority for 20/20 Onsite, it does not come at the cost of the patient experience. Emerging technologies like AI can boost efficiency but risk sidelining person-to-person connections.
What sets 20/20 Onsite apart:
Positive patient and provider interactions: These interactions play a pivotal role in retaining participants in clinical trials. While technology can enhance efficiency, it cannot replace the meaningful person-to-person connections that foster trust and engagement.
Patient-centric care: In our digital age, patient well-being remains paramount. We prioritize personalized, compassionate care, recognizing that technology enhances convenience but cannot replace human empathy.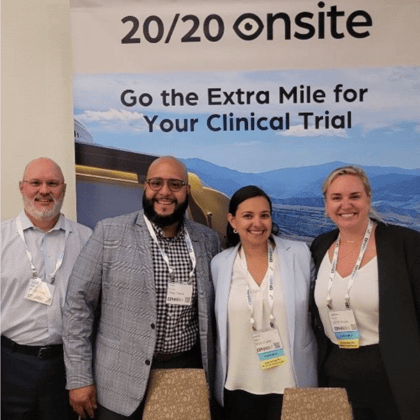 Sonali Bloom, Jessica Mays, Ivan Quiroz, and Dr. David Gibson at the 20/20 Onsite booth at DPHARM 2022.
Community networks increase access and patient diversity.
Our Mobile Vision Clinic excels at providing care to those who would otherwise face insurmountable barriers. By delivering care directly to individuals, we eliminate many of the obstacles that patients often encounter when seeking essential treatment. This innovative approach not only generates demand but also positively influences patient behavior, resulting in improved trial retention rates.
Moreover, we are eager to partner with site networks that share our dedication to high-quality clinical care, seamless access for patients, and the advancement of medical knowledge through clinical trials. Incorporating diverse perspectives within our workforce is essential as we strive for patients to see themselves reflected in the care they receive.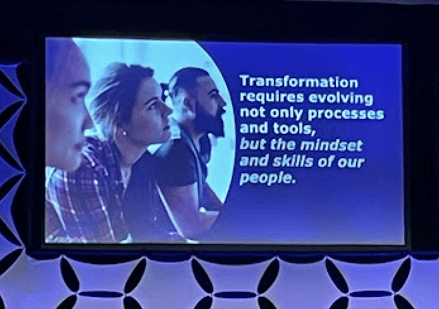 Just like our Mobile Vision Clinic's innovative approach, the transformation of healthcare requires evolving not only processes and tools but also the mindset and skills of our people.
Embrace risk for the sake of innovation.
Risk is essential to innovation — and this was a key theme at DPHARM 2022. This concept has guided 20/20 Onsite from our inception. We pride ourselves on our ability to face challenges with innovative ideas. We constantly develop new solutions to support the clinical care industry by constantly asking ourselves, "What would it take to make this happen?"
Malcolm Gladwell, renowned author and DPHARM 2022 speaker, stressed how important it is to build environments where innovation thrives. Innovation is relentless in this day and age, so advancing new ideas demands some level of risk.
We recognize every organization has a unique risk tolerance. That is why we continuously examine our own boundaries. We reflect on our own risk appetite. This motivates us to create the safest environment possible for patients — allowing our business to innovate at a faster pace.
Collaborative partnerships foster innovation: Meet 20/20 Onsite at DPHARM 2023.
At 20/20 Onsite, we put Gladwell's recommendation to practice every day, building spaces where innovation thrives. We constantly forge new partnerships to advance hybrid clinical care, and attending events like DPHARM every year allows us to continue expanding our network.
The power of collaborations and partnerships in advancing healthcare was another key theme at DPHARM 2022. At 20/20 Onsite, we have fully embraced this concept as a driver of innovation.
Curious how 20/20 Onsite can go the extra mile for your clinical trial? Do not miss your chance to meet our team in person at DPHARM booth #47 and attend our complimentary events:
Wednesday, Sept. 20th, 8:30-11:30 am: Join us outside the conference hall for complimentary coffee and snacks while touring our state-of-the-art Mobile Vision Clinic.
Wednesday, Sept. 20th, 5:30-6:30 pm: Meet us in the Westin Copley Place bar for drinks and casual conversations.

Thursday, Sept. 21st, 12:45 pm:

VP of Life Sciences Jessica Mays' speaker session, "The Blind Spot: Are Eye Exams Holding Back Your Non-Ophthalmic Clinical Trial?"
Schedule a meeting with our team in advance and secure your spot for the Mobile Vision Clinic tour here.