Last weekend, a few members of our Eye Care Team realized that one of our mobile vision clinics would be making the long drive from Louisiana to New Mexico this week, and we had an opportunity to deliver much-needed supplies to Texas. A conversation about how best to help quickly turned into a flood of support and donations from teammates - and ultimately a delivery of 3,000 lbs of bottled water! It's only a drop in the bucket compared to what Texans need right now - we are so glad our team was in the right place, at the right time to help.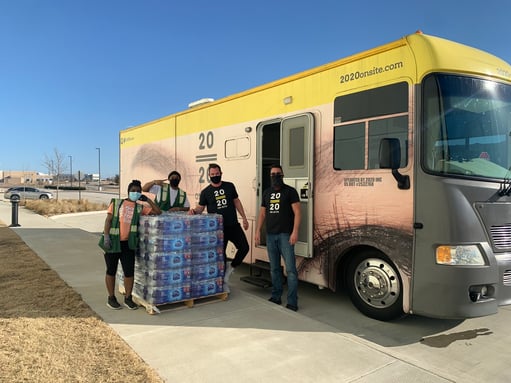 "Hi team, I send this message thinking of what we do on a day to day: we help people get access to something they need. We are sitting here thinking of the people in need in Texas. Their biggest need right now due to this disastrous weather they received last week, is our everyday need to stay alive, WATER. We will be going through the heart of this storm in Texas this week, making it possible for us to make a short stop in TX to drop fresh drinking water. Adam and I will be donating cases of water to the one of the food banks in Texas in support. If anyone is willing to help as well, please let us know and we will make sure your donations are put to use." - Slack message to the 2020 On-site team on Saturday, Feb 20th at 9pm from Albi Santiago, Senior Clinical Operations Manager.
We are SO PROUD of
Albi Santiago, Adam Merola, Mike Addario, and Mike Bowles
for always thinking of how we can help the communities we touch. From packing our mobile clinic with as much drinking water as it could hold, to coordinating the delivery with the North Texas Food Bank, this is a team that truly goes the extra mile.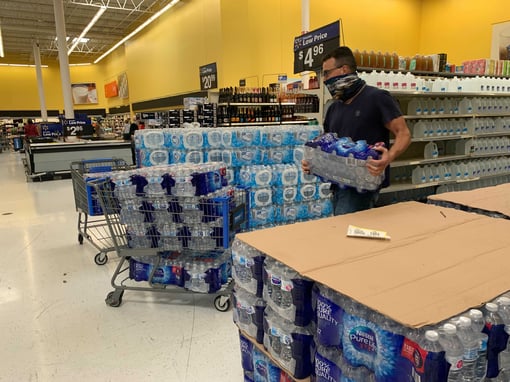 "We want our teammates to know how much we appreciate them and how quickly they got this together. No delay from 'how can we help?' to 'let's go!'" - Mike Bowles, Product Manager, currently on the road in Texas
"
We appreciate how you all jumped to execute with very little prep. Honestly I'm proud of the execution on all fronts. We are all very lucky to work with a bunch of super stars." - Adam Merola, C
linic Manager