In late April, several members from our Life Sciences team attended and exhibited at the Association for Research in Vision and Ophthalmology(ARVO) 2023 Annual Meeting in New Orleans, LA.

During this year's 5-day event dedicated to the beauty of diversity in science and nature, our team shared our insights and collaborated with other industry experts as we pursued the common goal of improving people's vision and lives. Check out our takeaways from the meeting and why we're excited about the future of vision care.
Jump to a specific section by clicking on a key takeaway below:
Our Key Takeaways from ARVO
With a staggering attendance of 9,800+ people, one of the standout aspects of the event was undoubtedly the vibrant energy that filled the venue. "This year's meeting brought together a remarkable group of individuals, from key opinion leaders and practitioners of ophthalmology or optometry, to esteemed biopharma sponsors and clinical research organizations (CROs)," CEO Sonali Bloom recalled. "The conference was not only a meeting of minds but also a showcase of technological advancements in devices and artificial intelligence."

20/20 Onsite conference team at our booth at ARVO 2023.
"Being a part of ARVO 2023 provided us with an unparalleled opportunity to be seen (pun intended) by individuals who genuinely appreciate and support our work," Bloom continued. "These professionals understand what we do and recognize the value we bring to the field. Engaging them in person allowed our team to forge more meaningful connections and foster a shared vision for the future of eye care."
Why We Attend Conferences like ARVO – and Why You Should Too!
"ARVO brought together professionals who share a common enthusiasm and drive to advance the vision care field," Nick Feltham, Partnerships Manager, said. "Discussions at an event like this often lead to a realization that the potential for collaboration was always there. Thus, prompting the question of why we hadn't partnered sooner."
"Conferences are not only an opportunity for 20/20 Onsite to shine, but also for attendees to grasp the extent of our impact," Jess Mays, VP of Life Sciences, added. "In this fast-changing industry, meeting and exchanging ideas with creative thinkers is invaluable. These interactions inspire us for the future of our service offerings as we continue to innovate on supporting all types of clinical trials."
According to Mays, "Our Mobile Vision Clinic is truly an experience where you have to see it to believe it. During our tours we had countless individuals stepping on board, and frequently someone would exclaim, 'I don't know what I expected, but I didn't expect this – in a good way!'"
Reactions from our Mobile Vision Clinic Tour & Social with Precision Vision
Our brand new Life Sciences clinic was conveniently parked outside the convention center. It became a hub of activity as partners embarked on an exclusive in-person tour. This experience enabled them to truly grasp the impact we have on the lives of patients who might otherwise not be able to access vision care.
"The Mobile Vision Clinic was pivotal in our success," Albi Santiago, Regional Manager, said. "The turnout during the tour was remarkable, with an impressive gathering of approximately 75 people. At one point, it felt like a block party outside."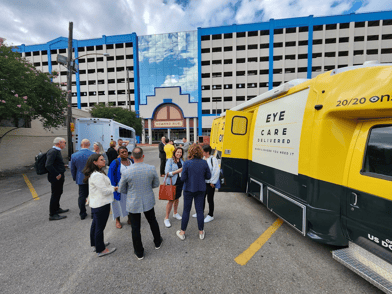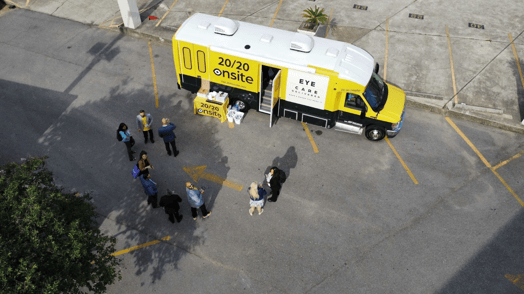 The 20/20 Onsite + Precision Vision Mobile Vision Clinic Tours & Social Event at ARVO
"It was heartening to see the concepts we discussed come alive before their very eyes, making a lasting impression and emphasizing the intrinsic value of on-site services in the clinical research pathway," Bloom recounted.
The event only reaffirmed the value and impact of our Mobile Vision Clinic, receiving positive feedback and engagement such as:
"This is the new wave."
"We love your team and this idea."
"This is the future!"
"Wow, so THIS is it!"
"This surpasses all my expectations."
"We were also representing Precision Vision's products. It was great to meet their team and get our unit certified," Adam Merola, Sr. Manager of Clinical Programs, said. "In addition to our Emmes certification, we've added yet another certification from Precision Vision for clinical trial services. Their new Site Readiness Certification enables us to seamlessly work with multiple protocols and arrive pre-certified for potential clients. Thus, streamlining our onboarding process."
We extend our heartfelt gratitude to all those who showed their support and enthusiasm. "After the event, enthusiasm for 20/20 Onsite only grew stronger," Santiago shared.
Did you miss our Tours & Social event? Don't worry! The Mobile Vision Clinic will return at ARVO 2024. However, you don't have to wait that long to take a tour. Watch our virtual Mobile Vision Clinic tour right from the comfort of your desk.
Exciting Innovations in Vision Care
Our team was thrilled to witness a multitude of innovations and advancements shaping the future of vision care:
Technology and equipment is becoming more complex and compact.
"I'm starting to see more and more machines becoming a bit more compact, which is good for us. I'm excited about that because anything that's compact is easier for us to install on the vehicle. Additionally, there are multiple technologies on the mobile front that we have been observing." - Albi Santiago
AI tools emerging for remote assessments and device usage
"The overlap between 20/20 Onsite and the AI world is intriguing as AI aims to bring its benefits directly to people. Our ability to physically engage with patients and assist them in utilizing AI-driven tools has the potential to create a seamless integration. Therefore, I look forward to watching the progression in the AI space in the next year." - Jess Mays
Improved imaging technology
"In the past, the concept of advancements in imaging technology, particularly handheld devices, was intriguing, but the quality of the gathered information or image quality was often lacking. However, that is no longer the case." - Ivan Quiroz
Focus areas for improving patient outcomes
"Wet age-related macular degeneration, diabetic retinopathy, diabetic macular edema, ocular surface disease, and myopia control were among the key focus areas that caught my attention during the conference. These areas hold immense potential for improving patient outcomes and transforming the field of vision care." - Alina Reznik, OD
By harnessing the potential of these advancements, 20/20 Onsite strives to revolutionize the way vision care is delivered and ensure that every patient receives the best possible care, regardless of their location. In a landscape where numerous brilliant minds are dedicated to advancing ocular disease and health, we are thrilled that 20/20 Onsite exists to make clinical trials more patient-centered, convenient, efficient, and cost-effective.
Altasciences' Session Highlighting our Mobile Vision Pods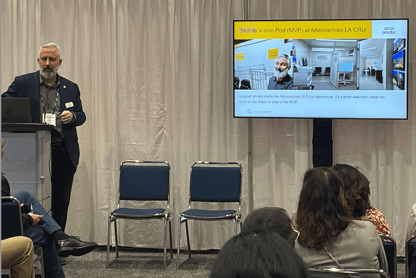 Chad Rathlef, Senior Director at Altasciences Clinical Research, presenting at ARVO
Nearly every seat was full during Altasciences' session highlighting our Mobile Vision Pods. Chad Rathlef, Senior Director of Altasciences Clinical Research, presented a photo of our delivery model and the support it provided. "The partnership with Altasciences has been nothing short of fantastic," Mays explained. "We've built our clinic to accommodate multiple studies and have the technology to meet their ophthalmology assessment needs. By delivering our vision care expertise and capabilities to them in an easy and seamless way, we're ultimately reducing the burden on their staff."
"Hearing a well-respected CRO share its positive experience and photos with the conference participants absolutely made my day," Dr. Reznik proclaimed. "The faces of my team members came to mind during the presentation and the amount of energy and devotion spent helping the trial come to fruition."
"Our team is extremely appreciative to Chad Rathlef and Altasciences, who went above and beyond in highlighting our Mobile Vision Pod and giving our team a well-deserved shoutout," Mays expressed with gratitude. "With numerous exciting topics to cover during their presentation, it meant a lot to us that they took the time to acknowledge and recognize our contribution."
A Message to Teams We Didn't Get A Chance to Meet at ARVO
We pride ourselves on being flexible and adaptable, continuously exploring innovative approaches to address specific clinical trial needs.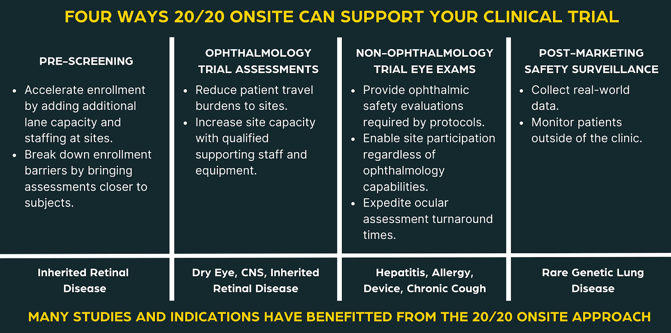 Four ways 20/20 Onsite can support your clinical trial
"If your trial aims to bring care closer to patients, alleviate travel burdens, expedite enrollment through efficient pre-screening, conduct follow-up exams, or enable the participation of sites that may otherwise be unable to join due to resource limitations, we can assist," Bloom shares. "Our expertise, equipment, and dedicated team can bridge the gaps and facilitate a seamless collaboration."
"We're an accelerator in the clinical trial space, helping research and science stay on track to bring medicine to market and provide the necessary care," Mays explained. "It's a mission that 20/20 Onsite is deeply passionate about, and if we haven't had the chance to connect yet, we would love to talk to you."
Continue the conversation with us! Whether we crossed paths at ARVO or didn't get a chance to meet, connect with us to see how our Mobile Vision Clinics can be a solution for your upcoming clinical trial.